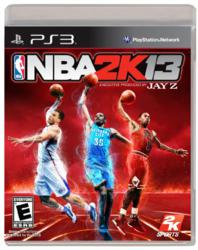 Detroit, Michigan (PRWEB) August 17, 2012
NBA 2K13 is available for preorder at SportsFanPlayground.com. The game features the 1992 US Men's Basketball Team - aka The Dream Team - for the first time as a unit.
The team features legendary players such as Michael Jordan, Magic Johnson, Patrick Ewing, Karl Malone, John Stockton, Charles Barkley, David Robinson and more.
The 2K basketball series of games have been the #1 rated basketball video game series worldwide since 2010. The game will be available on Playstation 3, Xbox 360 (also on Kinect), Nintendo Wii, Playstation Portable, and PC.
2K sports will also release an NBA 2K13 Dynasty Edition that will feature special add-on All-Star content, 2K Sports Earbuds made by Skullcandy, a full-sized Spalding basketball, the Art of Basketball book, and the actual game itself.
For more information, visit SportsFanPlayground.com.
About The Sports Fan Playground -
SportsFanPlayground.com is a leading online e-commerce provider of sporting goods and electronics which range from tablets, PCs and cameras to video games, DVDs, Blu-Ray Discs, appliances, lawn and garden products and more, along with the items from the NFL, MLB, NBA, NHL, NCAA, UFC and WWE.
The store also carries the top brands in electronics and apparel including, Nike, Adidas, Apple, Sony, Samsung, Microsoft, EA Sports, and many more. The company recently began its initial expansion into clothing and jewelry and will continue to expand over the next several months.