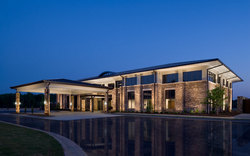 The Paulding Northwest Atlanta Airport was developed to serve as a catalyst for job growth and economic development opportunities of the future.
Atlanta, GA (PRWEB) October 15, 2010
The Paulding Northwest Atlanta Airport (PUJ) will be participating in the National Business Aviation Association's (NBAA) 63rd Annual Meeting & Convention, taking place October 19th through the 21st at the Georgia World Congress Center in downtown Atlanta, Georgia. Due to the tremendous success that the Paulding Northwest Atlanta Airport staff experienced at the NBAA 2009 convention, the airport's director, Blake Swafford, anticipates an even greater level of interest this year surrounding its convention and marketing activities that focus on economic development and job creation for the airport and the surrounding region. The airport's proximity to the Atlanta convention site and its new, 23,000 square-foot terminal building and FBO have garnered significant attention throughout the aviation industry. The impressive facility, which serves as a centerpiece for the airport and the surrounding technology park, is also home to the airport's fixed base operator (FBO), Paulding Jet Center.
The NBAA 2010 Convention (http://www.nbaa.org/events/amc/2010) provides a valuable opportunity for the PUJ team to aggressively promote its unique location, amenities, and services, along with its most unique characteristic, its room for growth and custom business development for the future. For companies requiring expansion or simply looking to relocate, the airport provides an ideal logistical location for an aircraft manufacturer, corporate charter operator or MRO seeking to expand its operations in the near future.
The Paulding Northwest Atlanta Airport (http://www.pauldingairport.com) broadly markets its capabilities and desirable logistical location to aircraft operators and corporate flight departments that are seeking cost efficiency and growth opportunities for their networks. The jet capable airport is the first to be built in Georgia in over thirty years, and its design provides a very solid infrastructure for the future of aviation and commerce in the region. Located twenty-five miles northwest of Atlanta, Paulding County has been one of the fastest growing counties in the United States over the past ten years. The new airport was designed to accommodate rapid growth in both private and corporate aircraft operations in the metro Atlanta area for the next fifty years.
The Nature Conservancy, a prominent national organization focused on conserving the environment and self-sustainable development, has also endorsed the airport's 650-acre design. The eco-friendly foresight that was adopted during the planning phase has provided the airport with a very unique placement on a short list of "Green Airports."
Please visit the Paulding Northwest Atlanta Airport website, http://www.pauldingairport.com, for more detailed information on PUJ's facilities, economic development opportunities and capabilities. For more information on Paulding Jet Center, please visit, http://www.pauldingjetcenter.com.
###