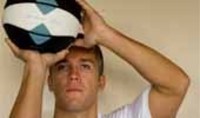 San Rafael, CA (Vocus) March 31, 2010
NBC Camps offers basketball camps for advanced beginning athletes to those who aspire to play Division 1 College basketball. Campers ages 9 to 18 may attend. Campers are separated into teaching groups and teams based on their age and ability. Our overnight basketball camps focus on extensive skill development, intensity, enthusiasm, leadership, and team work. At NBC Camps, the basketball camp experience is designed to develop the total player on and off the court.
Ryan Carr, director of scouting for the NBA's Indiana Pacers, shares his insights on being a camper and coach at NBC Camps. "When I think about being successful in basketball and in life, I have been lucky enough to have a few great influences. One of these was the chance to come to NBC Camps as a kid and learn how to pay attention to detail, how to work hard, how to treat others, and how to achieve and surpass goals. NBC Camps not only gives athletes the best tools to be a better basketball player, athletes are given the best tools to be a better person. It has been one of the privileges of my life to be connected with Fred Crowell and NBC Camps for the past 23 years."
NBC Camps offer overnight camps, day camps, team camps, and specialty camps including, Pure Shooting and Attack Moves Camps, Position Specific Camps, All-Star Camps, High School Competition Camps, and even a Family Hoop Camp.
The 2010 summer NBC Basketball camps are based in Alaska, Alberta, Arizona, British Columbia, California, Hawaii, Idaho, Illinois, Italy, Manitoba, Montana, Nevada, North Carolina, Oregon, Saskatchewan, the UK, and Washington.
About NBC Camps
NBC Camps began in 1971 as Northwest Basketball Camp. Founder, Fred Crowell wanted to design a program that would provide the best basketball training, create an atmosphere of encouragement, hard work, respect and compassion, and teach athletes to compete not only physically but with their hearts and minds.
Almost 40 years later, NBC Camps now has over 100 basketball camps, International tours, year round basketball mentorship training, volleyball, soccer, football, baseball, and speed explosion camps. NBC Camps partners with US Sports Camps, home of Nike Camps worldwide. Together, NBC Camps works to provide the ultimate sports camp experience.
For more information on NBC Camps, please visit the company's website at http://www.nbccamps.com or phone 1-800-406-3926.
###