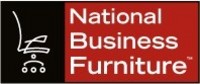 National Business Furniture has a large selection of products and a tremendous amount of information pertaining to each
Milwaukee, WI and Cambridge, MA (PRWEB) March 10, 2009
National Business Furniture (NBF), a K+K America company, today announced the launch of its redesigned website, NBF.com. The new website features integrated search, navigation and merchandising capabilities from Endeca Technologies, Inc., a search and information access software company. The NBF.com website now allows customers to easily search for office furniture based upon customer-driven criteria instead of searching through pre-defined categories - a significant leap forward in advancing the customer's shopping experience. This redesign follows similar advancements made to NBF's sister websites: OfficeChairs.com and OfficeFurniture.com.
NBF has a vast selection of office furniture including office desks, computer chairs, file cabinets and conference furniture from top manufactures like DMI, Kathy Ireland by Martin and HON. By taking advantage of Endeca's Guided Navigation® experience, NBF.com shoppers can browse products and refine search results using a wide variety of criteria, including: style, color, material and price range.
"At National Business Furniture, everything begins and ends with the customer in mind. So when it came to redesigning our website, our goal was to help our customers find the office furniture they wanted quickly and easily," said Rick Wachowiak, general manager for National Business Furniture. "By adding Endeca search functionality to NBF.com, we were able to give our customers a world-class shopping experience that matches the service they've come to expect from our company."
Endeca's search, Guided Navigation® and dynamic merchandising capabilities power the user experience on more than 500 of the world's top consumer and business sites. Companies like Barnes & Noble, Borders, CDW, eBags, The Home Depot, Marriott International, Nike, Panasonic and Walmart.com utilize Endeca solutions to drive sales, reduce resource spend and deliver a differentiated multi-channel customer experience.
"National Business Furniture has a large selection of products and a tremendous amount of information pertaining to each," said Rob Swint, global lead, B2B eCommerce and distribution at Endeca. "By implementing Endeca's search and navigation capabilities on their website, customers are now able to refine their choices in a very efficient and personalized manner. NBF has essentially given its customers the keys to finding the exact items that match their needs, which should improve customer retention and repeat purchases from NBF.com."
About National Business Furniture
National Business Furniture was founded in 1975 as an office furniture catalog for corporate offices, small businesses and government agencies. Since then, NBF has expanded into the school, church and home office markets through three catalog brands, five websites and an experienced sales team.
In 2006, NBF was acquired by K+K America, LLC, the leading group of business-to-business mail order companies in North America.
For a free catalog or to browse the complete selection of executive office suites and traditional office furniture such as desks, chairs, file cabinets, bookcases and reception furniture, go to NBF.com. For additional office, school and church furniture, visit any of the NBF family of brands including: OfficeFurniture.com, OfficeChairs.com, Alfax and Dallas Midwest.
About Endeca
Endeca's innovative information access software helps people explore, analyze, and understand complex information, guiding them to unexpected insights and better decisions. The Endeca® Information Access Platform, built around a new class of access-optimized database, powers applications that combine the ease of searching and browsing with the analytical power of business intelligence. More than 500 leading global organizations including ABN AMRO, Boeing, Cox Newspapers, the (US) Defense Intelligence Agency, Dell, Ford Motor Company, Hyatt, IBM, John Deere, the Library of Congress, Texas Instruments, and Walmart.com rely on Endeca to power business-critical applications that increase revenue, reduce costs, and streamline operations.
Headquartered in Cambridge, Mass., Endeca has operations in North America, Europe, Asia and Australia. For more information: endeca.com or info@endeca.com.
Contacts:
Dean Stier
National Business Furniture
414-276-8511
Benielle Sims
Endeca
617-674-6414
Endeca and Guided Navigation are registered trademarks of Endeca Technologies, Inc. All other product and service names mentioned herein are or may be registered trademarks or trademarks of their respective companies or organizations.
# # #