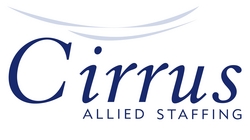 This new program is designed to offer free support for individuals seeking temporary and permanent therapy positions and to guide them through NC's specific licensing and credentialing requirements
Atlanta, GA (PRWEB) June 4, 2010
Cirrus Allied President Greg Allen announced today that the travel therapy job staffing firm is rolling out a Comprehensive Licensing and Credentialing Support Program for travel therapists looking to obtain credentials in North Carolina.
"North Carolina boasts a myriad of opportunities for physical therapists, occupational therapists and speech language pathologists," said Allen. "Our new North Carolina Therapist Licensing and Credentialing Support Program is designed to offer free support for individuals seeking temporary and permanent therapy positions and to guide them through North Carolina's specific licensing and credentialing requirements."
To help PT s, OT s, and SLP s figure out what credentialing and licensing is needed for permanent and travel therapy assignments in North Carolina, Cirrus Allied has a team ready to help you with any of your licensing and credentialing needs. If you have a specific question or concern regarding credentialing and licensure, therapists can call Cirrus Allied's toll free credentialing hotline: 866-518-1750. The hotline is manned with a member of the Cirrus Allied team Monday through Friday from 8 a.m. – 6 p.m. EST. If a therapist leaves a message after hours, Cirrus Allied guarantees a 24 hour response from a credentialing professional.
"Cirrus Allied is the first rehabilitation therapy staffing firm in the country to offer a free credentialing support service for therapists with no strings attached," said Allen. "Of course we'd love to have these therapists join the Cirrus team, but it's not required."
North Carolina, nestled between South Carolina, the Appalachian Mountains and the Atlantic Ocean, offers something for everyone. Travel OTs, travel PTs and travel SLPs can enjoy western North Carolina's fall foliage, lush waterfalls, skiing, rock climbing and mountain biking. For the sports inclined, North Carolina is home to an array of both college and pro sports teams including Duke University, Wake Forest, the Charlotte Bobcats and the Carolina Panthers. Travel OTs, travel PTs and travel SLPs can also enjoy relaxing at the coastal region's Outer Banks and touring North Carolina's more than 80 wineries.
For more information, visit http://www.cirrusallied.com/North-Carolina-Therapy-Jobs or call 866-518-1750 and ask for therapist credentialing help.
About Cirrus Allied:
Cirrus Allied is one of the nation's leading rehabilitation therapy staffing firms. With offices in Atlanta, Charlotte and Houston, our firm specializes in placing experienced rehabilitation therapists and assistants into travel, contract and permanent employment assignments that help them to further advance their careers. For our healthcare facility clients, our focus is providing a one-stop solution to their staffing and HR needs.
Cirrus Allied is a member of the Cirrus Healthcare Group, an international healthcare group specializing in providing US healthcare companies with customized domestic and international staffing and HR solutions. The Group consists of Cirrus Medical Staffing, Cirrus Allied and Cirrus Global. The companies are all A. Soriano Corporation (ANSCOR) companies.
###