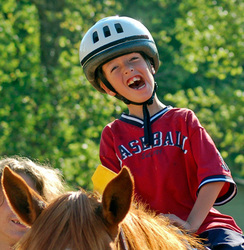 Others use the pool or weights or stationary bikes or whatever is traditional for PT's to use in their work
Siler City, NC (Vocus) June 22, 2010
Imagine never being able to walk or even sit up straight and then, one day, you're able to run through a meadow and feel the wind against your face. That's the feeling that many children get for the very first time when they join the Hippotherapy and Therapeutic Riding programs at CAN-TR (Chatham Area Network for Therapeutic Riding), a new nonprofit founded and directed by physical therapist and Siler City resident, Lisa Reynolds.
Reynolds has worked in nonprofit Hippotherapy and Therapeutic Riding programs for nearly 20 years. CAN-TR is the second nonprofit organization Reynolds has founded to work with horses and ponies as a means of physical therapy for individuals living with mild to severe mental and physical challenges. Karen Davis, another long time equine professional in the world of therapeutic riding, has joined forces with Reynolds to offer her services through CAN-TR.
CAN-TR is based on a flexible network-centered model, allowing the organization to partner with member farms throughout Chatham County and increase the accessibility of the programs. Services are currently being offered at Laurel Ridge Physical Therapy in Siler City with Lisa Reynolds and at Possum Trail Farms with Karen Davis.
The premise of Hippotherapy and Therapeutic Riding is that the horses and ponies closely mimic the movement of walking for individuals with limited mobility. When combined with additional tasks and challenges, the riders increase core strength, enhance their fine and gross motor skills and develop independence.
"Others use the pool or weights or stationary bikes or whatever is traditional for PT's to use in their work," Reynolds says. "I get to partner with horses. How cool is that?"
The added advantages of using ponies is that they take riders places a wheelchair has difficulty navigating. With ponies, Reynolds says, riders get to be in contact with nature.
"It's difficult to take a wheelchair on a hike through the woods or across the stream," Reynolds says. "But our ponies can take riders just about anywhere. On horseback, our riders are just like everyone else. It's a wonderful feeling that many of our clients experience for the very first time here at CAN-TR."
One thing that CAN-TR does differently for hippotherapy is pair a child who has a disability with a peer who is typically developing. That peer is a volunteer and serves as the client's riding buddy by acting as a visual model for sitting up straight, playing the therapeutic games, and directing the pony. This is a positive use of peer pressure, Reynolds says, as children are more likely to mimic other children before they follow the requests of their adult therapist.
"When there are two kids riding ponies and having fun, you look to the side of the arena and see a wheelchair. You wonder which kid it belongs to, and many times the answer isn't very clear," Reynolds says. "That's one of the things I love about what I do!"
The results are often astonishing.
Paisley, a CAN-TR volunteer, remembers Lily, a special child who moved from barely walking on her own to running independently.
"Watching a child who could barely walk on her own and barely spoke, turn into this amazing girl who can stand on the back of a pony and who ran up to me in public and gave me a big hug... nothing can replace that feeling for me," Paisley says.
CAN-TR has been infused with the energy and potential of a new nonprofit, but it's backed by decades of experience from the director, volunteers, board members, and carefully trained ponies. The result is a truly special organization poised to enhance the mobility and skills of countless area residents facing a vast spectrum of challenges.
CAN-TR clients experience any number of physical and mental challenges, including Autism, Cerebral Palsy, Traumatic Brain Injury, Muscular Dystrophy, Impaired Sensorimotor Function and Learning Disabilities. Though CAN-TR focuses primarily on children, Reynolds says the organization is willing and able to work with individuals of all ages.
"So many of the people we serve have spent their entire lives focusing on what they can't do, having been told by medical and early intervention professionals that they'll never be able to do certain things or they have a number of developmental delays," Reynolds says. "But at CAN-TR they get to discover all the things they CAN do. And that's what makes this so exciting."
To learn more about what you CAN do with CAN-TR or to get involved today, visit http://www.can-tr.org.
###