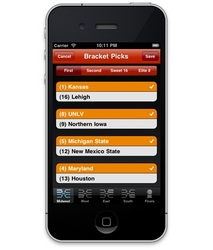 "Completing brackets is always fun, but this app takes it to the next level. So convenient. The ability to create and join pools really sets this app apart...
Louisville, KY (PRWEB) March 9, 2011
PocketBracket, available for iOS (iPhone, iPod, iPad) and Android powered devices, allows you to create unlimited NCAA® Men's Basketball Tournament brackets, organize pools, and get game updates on your mobile device during March Madness®.
PocketBracket eliminates the tedium of managing your NCAA® Tournament brackets. Completing your bracket is simple on the touch interface. PocketBracket also has a "SmartPick" feature which automatically advances your team to later rounds. Perfect for those die-hard fans who have their team winning. After each game, PocketBracket automatically scores and ranks your brackets.
PocketBracket also allows you to create both public and private bracket pools. Have an office pool up and running in minutes. From within the app you can invite anyone to join via email, Facebook, and Twitter. You can fill out a bracket and join multiple pools to compete among friends, family, and co-workers. No more copying paper brackets.
PocketBracket 2011 hit the App Store on Valentine's Day and quickly became an Apple "Staff Pick". This is PocketBracket's third year in the App Store. Each year PocketBracket adds more features. This years version includes "GameTalk", allowing users to interact in a real-time, Twitter like fashion during the games.
PocketBracket 2011 became available in the Android Market with a full-featured version on March 1st. PocketBracket integrates both platforms seamlessly. So you can setup a pool on your Droid and invite your iPhone friends to join their brackets, or vice versa. Pretty slick. PocketBracket plans to feed the platform battle by automatically running an Android versus iOS bracket pool.
PocketBracket comes pre-loaded with 2010 NCAA® Men's Basketball Tournament data so you can begin organizing your pools and using the application before the 2011 NCAA® Tournament. The 2011 data will be available on Selection Sunday, March 13 at 8:15pm ET. At that time PocketBracket will automatically update and remove your test brackets so you are ready for March Madness®.
PocketBracket offers rules, scoring, and more information on its website. In addition, you can search and view brackets and pools. It's a great extension to the app and great way to share brackets with non-smartphone users.
PocketBracket plans to release an exclusive Women's Tournament version soon. It will be available on both platforms with all the same features.
The bottom line, the convenience of it all makes this app a no-brainer. You will totally score with PocketBracket - Game On!
###