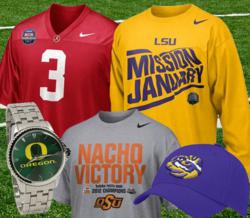 Our goal in partnering with TeamFanShop is to provide all college sports fans with a best-in-class online shopping experience.
Atlanta, GA (PRWEB) January 09, 2012
TeamFanShop, a subsidiary of Fanatics, LLC, and Turner Sports Interactive, Inc. have joined forces to power the official online store for NCAA.com. The store will operate under Turner's NCAA® Digital business unit. The new partnership entails an all-in-one shopping experience including a complete line of officially licensed merchandise from the NCAA and over 600 NCAA Division I, II and III colleges and universities.
ShopNCAASports.com is the premier e-commerce destination for officially licensed locker room t-shirts and hats for the 89 NCAA Championships, including the Final Four®, the Frozen Four® and the College World Series®. In addition, the store features a comprehensive lineup of officially licensed merchandise from all of the major college sports teams and hot-market items, such as BCS National Championship gear and college football rivalry products. With more than 25 different merchandise categories, the NCAA.com online store has something for every college sports fan, such as jerseys, tees, hats, tailgating gear collectibles and more.
"Our goal in partnering with TeamFanShop is to provide all college sports fans with a best-in-class online shopping experience," stated Mark Johnson, Vice President, Business Operations for Turner Sports / NCAA Digital. "By offering an extensive lineup of official NCAA sports merchandise, including gear from Division I, II and III schools as well as NCAA championship apparel, TeamFanShop helps us to achieve our mission of becoming the top online destination for college sports fans."
"We are enthusiastic to be aligned with such a respected broadcasting partner as Turner Sports in the operation of the official online store of the NCAA.com. Many changes have occurred during the past year, which has allowed our company to provide partners with an even more concrete e-commerce platform, outstanding customer service center, and exciting merchandising efforts," commented the Senior Vice President of Strategy and Business Development for Fanatics, Brian Swallow. "Our new state-of-the-art customization facility is just one new element that allows fans to choose from a greater array of custom sports merchandise and receive the order quickly and effortlessly."
About Turner Sports:
Turner Sports, a division of Turner Broadcasting System, Inc., is an industry leader in televised and online sports programming, airing championship level sporting events on TBS, TNT and truTV, and managing some of the most popular sports sites on the Internet. Turner Sports' television line-up includes the NBA, Major League Baseball, the NCAA Division I Men's Basketball Championship, NASCAR and professional golf. The company's digital portfolio includes NASCAR.COM, NCAA.com, PGATOUR.COM and PGA.com, as well as an accompanying collection of mobile websites and connected device apps. Turner Sports and the NBA also jointly manage NBA Digital, which includes NBA TV, NBA.com, NBA LEAGUE PASS, NBA Mobile, the NBA Game Time App, NBADLEAGUE.com and WNBA.com.
About the NCAA:
The NCAA is a membership-led nonprofit association of colleges and universities committed to supporting academic and athletic opportunities for more than 400,000 student-athletes at more than 1,000 member colleges and universities. Each year, more than 54,000 student-athletes compete in NCAA championships in Divisions I, II and III sports. Visit http://www.ncaa.org and http://www.ncaa.com for more details about the Association, its goals and members and corporate partnerships that help support programs for student-athletes.
NCAA, Final Four, Frozen Four and College World Series are trademarks owned or licensed by the National Collegiate Athletic Association.
About Fanatics/TeamFanShop:
TeamFanShop, Inc., is a leading provider of e-commerce solutions and subsidiary of Fanatics, LLC, the world's largest online retailer of officially licensed sports merchandise for collegiate institutions, professional sports teams and leagues, media networks, conferences, and retailers. Fanatics encompasses five sectors: direct to consumer retail, third party e-commerce syndication, digital marketing, licensing and manufacturing, and fulfillment services. Proprietary brands of Fanatics include Football Fanatics, one of the most trafficked sports fan gear sites online. Fanatics also operates the official online stores of the NFL, NBA, NHL, MLB and NASCAR. Other partners include Oklahoma Sooners, Florida Gators, Oregon Ducks, New York Giants, Denver Broncos, The Southeastern Conference, The Atlantic Coast Conference, The PGA, and Team USA among many others. Fanatics combines best-of-breed e-commerce hosting and retail strategy with highly efficient order fulfillment, secure shopping solutions, and customer relationship management to help partners fully monetize their official websites.
###