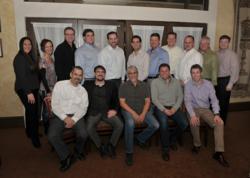 The knowledge and experience I have gained over my 18-year career in the car business does not compare to the information and processes that I have learned in the General Management Executive Program.
Overland Park, KS (PRWEB) January 09, 2013
Neal Wilson, Executive Manager of Dan Vaden Chevrolet-Cadillac of Brunswick is one of eighteen dealership managers graduating from the NCM Institute's General Management Executive Program this week. He praised the year-long, classroom-based format, which involves the participants coming to six, 2 ½-day sessions over 11 months. "I always love to come to class. I like learning away from the dealership and focusing on the many different ways we can grow our business. The class offers information and ideas that are ahead of the curve," he said. Wilson went on to explain why he and his managers will continue to attend future NCMi® training programs: "The knowledge and experience I have gained over my 18-year career in the car business does not compare to the information and processes that I have learned in the General Management Executive Program."
Amanda Ledezma, General Sales Manager at Cable Dahmer Chevrolet (Kansas City), is another graduate who had high praise for the program: "The GMEP class was absolutely amazing. The facilitators did an exceptional job! They were knowledgeable, funny and kept my interest the entire time. I will be able to utilize everything I learned here on a daily basis at our store. This class not only gave me a better understanding of how to run the dealership at a higher level, but also gave me tools to use for Tracking, Forecasting and so much more. Thank you for an education I will be able to use for a lifetime."
The General Management Executive Program is designed to equip current and future automotive dealership executives for long-term success in retail automotive management. With emphasis in dealership financial and operational best practices, the program's objective is to build a solid executive leadership foundation in order to strengthen dealership operating performance today, and sustain the long-term viability of the retail auto industry. The curriculum focus is comprehensive, intensive and designed to give the students the knowledge and skills necessary to successfully manage a dealership, balancing the volatility of the industry with the myriad operational decisions that drive the profitability of their dealerships.
In a video message to the graduating participants, Paul A. Faletti Jr., President and CEO of NCM Associates, congratulated the participants for the successful completion of such a demanding program. Faletti also thanked the graduates for their generosity in sharing their own insights and experiences with their classmates, citing the importance of peer collaboration to their ongoing professional development. "I personally admire and respect the fact that you had the willingness and the discipline to step away from your operations for the purpose of educating yourself and for educating others in a peer collaboration environment over the past 11 months," Faletti said. "As a graduate, you have an intrinsic link to our organization and I encourage you to take advantage of that over the coming years as you encounter new opportunities and challenges within your own retail operations. At the same time, I hope the conversations and relationships you've established with your classmates will continue in the years going forward, and I encourage you to take advantage of that resource, as well," Faletti added.
NCM Institute is a well-established training partner to retail automotive dealers, having trained over 2,000 dealership managers, executives and dealer principals since its inception in early 2010. NCMi® is unique in that it uses a combination of dedicated instructors and visiting faculty from its Retail Operations Consulting and 20 Groups divisions to teach the management and leadership best practices in use in some of the nation's leading automotive dealerships.
Garry House, Director of the NCM Institute Center for Automotive Retail Excellence, expanded on this important distinction from other dealer development programs stating, "Our faculty is comprised of NCM's broad bench of retail automotive industry experts and former dealership executives," stated House. "Many of our instructors are actively working in dealerships with their clients using the principles we teach at the NCM Institute. They see first-hand the results of the consistent and ongoing execution of the processes and structures we advocate, and they bring their real-world retail automotive management expertise to the classroom on behalf of our students," he said.
For information about the General Management Executive program or the NCM Institute and its complete suite of traditional, Web-based, and private management training options, call 866.756.2620.
About NCM Associates, Inc.
NCM Associates, Inc. is the originator of the automotive industry 20 Group peer collaboration process and has been providing dealership Benchmark® analytics, Education and Retail Operations Consulting services to the industry since 1947. Located in Overland Park, KS, NCM provides a robust suite of services designed to drive dealership profitability using its proven, operations-focused Benchmark® for Success program with new and pre-owned U.S. automotive dealerships, as well as with dealerships in more than 20 other industries. NCM Associates is proud to be 100% employee-owned. For more information about NCM Associates, visit http://www.ncm20.com or call 800.756.2620.