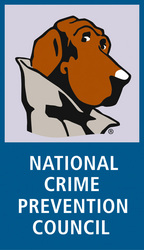 step up to a safer community
Arlington, VA (Vocus) October 30, 2009
The United States House of Representatives passed resolution 177 to recognize officially October as Crime Prevention Month. They join their United States Senate members who passed the resolution in early October.
Each year in October the National Crime Prevention Council (NCPC) observes Crime Prevention Month to encourage citizens to work with local law enforcement to prevent crime in their communities. This October more than 125 communities in 32 states joined NCPC in its fight against crime and in support of this important month by Celebrating Safe Communities. NCPC, collaborating with the National Sheriffs' Association (NSA), and the Bureau of Justice Assistance (BJA), created Celebrate Safe Communities, which was designed to help local law enforcement agencies and their community partners kick off celebrations of Crime Prevention Month.
Celebrate Safe Communities not only introduces law enforcement to their communities, but serves as a platform to allow law enforcement to discuss current crime issues with the people in their community and listen to their concerns.
Last week McGruff celebrated Crime Prevention Month on Capitol Hill by visiting with Congressional staff members and leaders for a photo opportunity. McGruff also joined local officials from the D.C. metropolitan area to Celebrate Safe Communities. McGruff and NCPC staff greeted Metro riders at the numerous stops around town and invited them to "step up to a safer community" while members passed out informative fliers, pens and pins.
NCPC first declared October as Crime Prevention Month in 1984. The organization, best known for McGruff the Crime Dog, would like everyone to remember prevention helps strengthen the community and build a connection. It requires the cooperation of citizens, civic groups, and law enforcement, and, frequently, the business community, faith-based groups, and all levels of government.
For more information about Crime Prevention Month or Celebrate Safe Communities, please contact Michelle Boykins at 202-261-4184 or Amy Vimislicky at 202-261-4156. For information on the National Crime Prevention Council, please visit http://www.ncpc.org.
About the National Crime Prevention Council
The National Crime Prevention Council (NCPC) is a private, nonprofit organization whose primary mission is to be the nation's leader in helping people keep themselves, their families, and their communities safe from crime. NCPC manages public service advertising under the National Citizens' Crime Prevention Campaign--symbolized by McGruff the Crime Dog® and his "Take A Bite Out Of Crime®" slogan--and acts as secretariat for the Crime Prevention Coalition of America, more than 400 national, federal, state, and local organizations representing thousands of constituents who are committed to preventing crime. NCPC is funded through a variety of government agencies, corporate and private foundations, and donations from private individuals. For more information on crime prevention issues, visit http://www.ncpc.org.
###