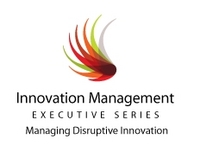 Raleigh, NC (PRWEB) February 17, 2011
NC State University's Poole College of Management has attracted the attention and enrollment of leading, global companies for the spring 2011 Executive Series on Managing Disruptive Innovation. Participants of the six-day intensive collaboratory include IBM, Smith & Nephew, Eisai, Novozymes, BASF, and Biogen Idec. Throughout the series senior executives from these firms will have the opportunity to find real solutions to current business challenges through proven research and tools created by NC State's Center for Innovation Management Studies (CIMS) and Poole College of Management.
Of the international participants, IBM has agreed to sponsor the spring 2011 series providing guest speakers during module 1 and actively contributing their expertise throughout the workshop. David Sink, Program Director for jStart at IBM, stated "We are excited to be a part of the Innovation Management program series at N.C. State. It focuses on creating transformative business models which are critical elements for thriving in today's global market."
Lee Clark-Sellers, Program Director of the Executive Series, believes that "the quality of our participants is a reflection of the business value we offer through our executive programs and we are pleased to have IBM as our sponsor for this series. Like all of our participants, IBM is an international leader who continuously sets the stage for innovation, technology, and many other aspects of business. Each of our participants demonstrate a commitment to managing innovation across their enterprise."
N.C. State is excited about the spring 2011 series and collaborating with the attendees on mounting business challenges. The Managing Disruptive Innovation Executive Series is part of NC State's executive programs, called Business Collaboratories, and is a six-day intensive collaboratory that is delivered in three distinct modules. The course dates are: Module 1: January 27-28; Module 2: February 10-11; and Module 3, February 24-25. The fall series dates will be announced soon.
Those who may be interested in participating in the next Disruptive Innovation Executive Series should contact Lee Clark-Sellers at 919-637-2109 or call the Executive Programs office at 919-515-4445.
About NC State University and the College of Management:
North Carolina State University is the largest university in the state, with a long-standing reputation for its engineering and technical programs. Executive Programs at the NC State's Poole College of Management reflect the college's emphasis on management of technology. Educating tomorrow's leaders in a technology-rich, global marketplace, Poole College's focus is on active integration of teaching, research and corporate engagement. The curriculum emphasizes real world, applied learning, and requires students to work on projects and to intern with many of the technology driven companies in Research Triangle Park, N.C and beyond.
About IBM's jStart:
jStart is IBM's emerging technologies client engagement team. As part of IBM Software Groups' Emerging Technology organization, jStart consists of experts in emerging technology who are dedicated to helping its clients meet real-world IT challenges, provide tangible returns on technology investments, and understand the impact of emerging technologies on business operations. The team has been actively discovering, promoting, and validating emerging technologies since 1997. To learn more about jStart, visit ibm.com/jstart.
###