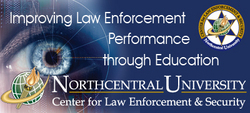 The news today is filled with stories…of both physical and cyber-attacks on businesses and campuses
Prescott Valley, AZ (PRWEB) May 12, 2008 -
Northcentral University (http://www.ncu.edu ), an innovator in 100% online higher education, announced the introduction of its newest master's and doctoral business degree specialization, Business, Corporate and Campus Security.
"The news today is filled with stories…of both physical and cyber-attacks on businesses and campuses," stated Dr. Clinton Gardner, president of Northcentral University. "We have developed a comprehensive, 100% online higher education specialization designed to help improve law enforcement and security performance through education."
Northcentral University is the only 100% online higher education university to offer undergraduate, master's, and doctoral degrees in business with a specialization in Homeland Security.
With a greater need than ever for a disciplined approach to corporate infrastructure security and facility protection, the Business, Corporate, and Campus Security curriculum explores the unique vulnerabilities that can be exploited against corporate installations and commercial and college campuses, in the context of prevention, response and incident management.
Northcentral University focuses on the needs of law enforcement and security professionals and has established partnerships with the FBI National Academy Associates (FBI NAA), Fraternal Order of Police (FOP), International Association of Women Police (IAWP), and other industry associations. Tuition scholarships are available for government, law enforcement and security professionals. Contact NCU at http://www.ncu.edu or 866-776-0331 for more information.
About Northcentral University
Founded in 1996 and headquartered in Prescott Valley, Arizona, Northcentral University (http://www.NCU.edu ) is a private, 100% online higher education institution serving students worldwide. NCU offers bachelor's, master's, and doctoral degrees as well as certificates of advanced graduate studies in business and technology management, education, and psychology. NCU focuses on customizing academic programs to each student's personal and professional interests, and NCU faculty provide one-on-one guidance to ensure academic success.
NCU is regionally accredited by The Higher Learning Commission of the North Central Association of Colleges and Schools, and the School of Business and Technology Management is accredited by the Association of Collegiate Business Schools and Programs (ACBSP). For more information about all Northcentral University's degree and certificate programs, visit http://www.NCU.edu or call toll free 866-776-0331.
###