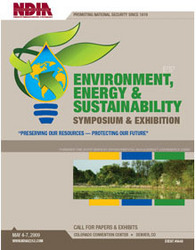 JSEM has always provided me with unprecedented networking opportunities with key decision makers in both the government and industry environmental sectors
Arlington, VA (Vocus) April 29, 2009
The National Defense Industrial Association will soon host the Environment, Energy, & Sustainability Symposium and Exhibition, scheduled for May 4-7, 2009 in Denver, CO. Formerly known as the [JSEM Conference], E2S2 will bring government, academia, and military stakeholders together with defense industry suppliers to discuss mutually beneficial solutions to the environmental, energy, and sustainability challenges facing the country.
E2S2, slated to be held in the Colorado Conference Center, is a much-needed venue for industry suppliers to showcase their current capabilities and for government, military, and academic leaders to detail their evolving energy and security concerns as the nation heads deeper into the 21st century. According to Mr. Paul Reinke, NDIA Energy Security Committee Chairman, "The National Defense Industrial Association's Environment, Energy, and Sustainability Symposium provides a unique forum for military stakeholders to discuss the innovations, technologies, applications, and ideas that have contributed to DoD's progress in meeting the challenge of secure and sustainable energy."
That challenge – fueled in part by energy scarcity, pricing volatility, climate change, and political tensions – brings with it a wealth of opportunities for industry suppliers to secure their positions as leaders over the coming months and years. This year, E2S2 is the breeding ground for those opportunities, just as its predecessor, JSEM, was in the past. "JSEM has always provided me with unprecedented networking opportunities with key decision makers in both the government and industry environmental sectors," says Mr. Steven J. Stone, Energy and Environment Program Director, LMI, and NDIA Environmental Committee Chairman. "I'm really looking forward to where E2S2 is going. The timing for this expansion effort couldn't be better."
2009's E2S2 will feature over 300 presentations by key government and military officials, academic leaders, and industry innovators concerning the energy, environmental, and security issues that are major focuses of the new administration. From educational presentations covering topics like green remediation to expert opinion on the government's need for products and services that address upcoming regulatory requirements and sustainability goals, E2S2 offers a track for every interest and industry specialization. Keynote speakers will include Mr. Mark Schaefer, Deputy Executive Director of Environmental Conflict Resolution, U.S. Institute for Environmental Conflict Resolution; Mr. Richard Kidd, Program Director, Federal Energy Management Program, Office of Energy Efficiency and Renewable Energy, Department of Energy; and Mr. Al Shaffer, Executive Director, Defense Energy Security Task Force and Director, Plans and Programs, Office of Director, Defense Research and Engineering, Ms. Maureen Sullivan, Director, Environmental Management, ODUSD(I&E)/EM, and others.
Recognizing the environmental concerns of the federal government, its contractors, and citizens across the nation, NDIA's staff is working with the Colorado Convention Center's management to "go green" throughout the symposium and encourages exhibitors to support its efforts to reduce impact and wisely employ resources for the continued health, security, and strength of the nation. As Paul Reinke puts it, "Sustainability is ultimately the goal of everything humans should be doing. NDIA members and E2S2 attendees are at the forefront of sustaining America forever."
For more information about the 2009 Environment, Energy, and Sustainability Symposium and Exhibition, please visit e2s2.ndia.org.
About NDIA:
The National Defense Industrial Association (http://www.ndia.org) is America's leading defense industry association promoting national security. NDIA's Environmental and Energy Security Division advocates the development and application of cutting-edge technology, enlightened stewardship, superior programs, and best-in-class systems and support toward the achievement of environmental excellence and the long term security of our nation's energy supplies.
###