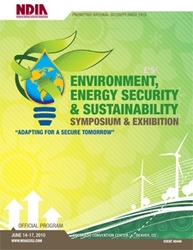 The Department Of Defense and related services are doing an extraordinary job of linking sustainability and conservation to their mission
May 18, 2010 (Vocus) May 18, 2010
The recent announcement by the White House and the Department of Defense (DoD) to pursue enhanced energy security and independence has marked 2010 as a year of transformation for the government, DoD, the Services and organizations that support energy, environment and sustainability programs.
Organized by the National Defense Industrial Association and formerly known as the Joint Services Environmental Management (JSEM) Conference, the 2010 Environment, Energy Security & Sustainability (E2S2) Symposium & Exhibition is the comprehensive summit for the latest research and practices on Environment, Energy Security and Sustainability management throughout the DoD and other federal agencies.
"Increasingly, top leadership in government and the defense industry understand that a commitment to energy security is a commitment to our national security," says Dr. Vincent J. Ciccone, P.E., BCEE, NDIA Environment & Energy Security Division Chairman. "E2S2 is great forum to engage with industry leaders and policymakers on the issues and learn about the strategic practices needed to meet these challenges."
The four-day event will kick-off on June 14, 2010 with a series of technical sessions. On June 15 an opening keynote address will be presented by Ms. Michelle Moore, the Federal Environmental Executive, Executive Office of the President . The full day of Plenary presentations includes information-packed presentations from senior leaders in the DoD, Industry, and the Services, which will outline their organizations' goals for the next three years, along with initiatives and program and budget changes as well as policy updates. The remaining two days will encompass over 250 technical sessions.
"The Department Of Defense and related services are doing an extraordinary job of linking sustainability and conservation to their mission," said Moore at a recent White House online Q and A session. "Whether you're talking about the sustainable buildings at Fort Hood, or using recycled plastics to make temporary bridges that are used over creeks and rivers so that military vehicles can operate in areas that don't have roads, there are wonderful examples of leadership and sustainability throughout the DoD."
Attendees will have to opportunity to participate in technical sessions and learn best practices and strategies for maximizing energy efficiencies and resource conservation for meeting the new federal environmental initiatives, including Executive Order 13514.
Event Details:
June 14-17, 2010
Colorado Convention Center
Denver, Colorado
Full agenda and event details: http://www.ndiae2s2.com
###