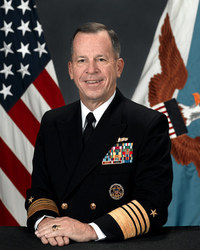 Washington, DC (Vocus) January 27, 2009 –
Admiral Michael Mullen, USN, Chairman, Joint Chiefs of Staff will address attendees at the Awards Dinner on the night of February 11 during the National Defense Industrial Association's (NDIA) 20th Annual Special Operations/Low Intensity Conflict (SO/LIC) Symposium being held from February 10-12, 2009 at the Marriott Wardman Park Hotel, Washington, DC.
The 20th Annual SO/LIC Symposium & Exhibition will highlight the myriad of challenges faced in a Persistent Conflict that includes: future force structures, Irregular Warfare, Regional Engagement, Coalition Operations, global force posture, interagency coordination, weapon systems and training requirements.
The 20th Annual SO/LIC Symposium list of Keynote Speakers reads like a who's who in the field of Special Operations. This anniversary year's conference speakers include: General Norton Schwartz, USAF, Chief of Staff, USAF; Admiral Eric Olson, USN, Commander, United States Special Operations Command; Honorable Michael Vickers, Assistant Secretary of Defense for Special Operations, Low Intensity Conflict and Interdependent Capabilities; and General Barry McCaffrey, USA (Ret), President, BR McCaffrey Associates, LLC.
The NDIA conference will examine issues pertaining to persistent conflict such as:

Regional views of persistent conflict
Technology and persistent conflict
Views from the Practitioners
Persistent conflict and the human dimension
Strategies for persistent conflict
Meeting the challenges of persistent conflict through education and training
About NDIA:
The National Defense Industrial Association (NDIA) is America's leading defense industry association promoting national security through communication and knowledge-exchange between industry and the government. NDIA has nearly 1,500 corporate members and more than 64,300 individual members from the defense/security industry, the government and military. NDIA supports its mission through technical symposia, expositions, government advocacy, regional chapters, technical divisions, affiliate associations and its award winning magazine, National DEFENSE.
###