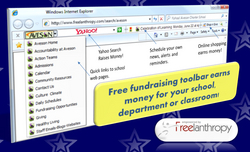 San Diego, CA (PRWEB) July 1, 2009
In the face of state-wide cuts schools are hungry for ways to supplement their budgets to maintain the quality of education that all students deserve. Freelanthropy.com is now offering an innovative way to enable parents, teachers, administrators and even students to quite literally take matters into their own hands to generate revenue for their school.
And in these tough economic times when it might not be possible for families to open their wallets, they can do something they're collectively doing thousands of times per day to generate literally thousands of dollars per year for their school or individual classroom. The simple act of using a web search engine has been harnessed to support better education in the classroom.
By simply using the free search and communication tools provided to schools by Freelanthropy, the act of using Yahoo! Search can now generate funds for supplies, field trips, music programs or whatever the particular school or department needs.
"While our services are available to a broad range of nonprofits and charities in the United States and Canada, Freelanthropy was originally born out of a desire to help schools, so it is a great privilege to be an exhibitor at NEA Expo 2009 and to be able to address the largest single assembly of educators on the planet."
Sheehy added, "With four daughters of my own I see first-hand how schools are struggling to fulfill their mission of providing the best education possible. At the same time parents are struggling to make ends meet with less ability to volunteer or write a check to support their children's schools. Freelanthropy's Yahoo!-powered web search tools offer a simple way for people to provide financial support to their local school even if they're not able to make a direct financial contribution. Not having to sell cookie dough or collect money from friends and colleagues is also a big plus."
In addition to empowering supporters to generate revenue for their school just by searching or shopping online, Freelanthropy also helps them to stay connected to their school through the free "Community Toolbar" that Freelanthropy provides to each of its nonprofit partners.
Accounts can be established by entire schools, but departments, grades, individual classrooms or even specific projects can all have their own accounts and collectively can be assembled in a group account, too. This makes it very motivating for a parent to see the impact they're having for their own child's classroom, while also being able to see the power that the entire school community has working together.
About Freelanthropy:
Freelanthropy, LLC. is an online services provider of innovative fundraising, communications and branding solutions for a wide variety of nonprofit organizations including schools, churches, shelters, clubs, trade organizations and more. Schools and other organizations interested in applying for Freelanthropy's free services can visit http://freelanthropy.com/apply. For more info contact Freelanthropy at 626-771-3556.
###