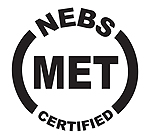 Baltimore, MD (PRWEB) May 05, 2011
MET Laboratories has signed an agreement with Center Testing International (CTI) for offering NEBS pre-testing in China. The agreement will provide a convenient resource for telecom manufacturers in China to perform local NEBS testing covering Telcordia standards GR-63 and GR-1089.
With many telecom manufacturers setting up R&D and manufacturing facilities in China, this provides NEBS testing closer to these facilities. CTI and MET will work closely in the next several weeks to prepare the testing facilities and commence testing services by the end of the second quarter of 2011.
Partnering with MET Laboratories, a leader in electrical product safety for more than 50 years, will expand the scope of CTI's electrical testing and certification services. Key industry sectors benefiting from this partnership include major telecom and wireless infrastructure equipment manufacturers. This partnership will provide Chinese manufacturers a cost- and time-effective way to access the North American telecom market.
ABOUT Center Testing International (CTI): Centre Testing International Corporation is China's leading product testing, inspection, certification, and consulting firm. Providing comprehensive services for virtually all consumer products, CTI ensures quality and enables companies to sell their products to markets worldwide. CTI, a publicly traded company on the Chinese Stock Exchange, performs product testing on industries not limited to: electrical and electronic products, toys, footwear, textiles, leather, automobiles, food, pharmaceuticals, and cosmetics.
CTI is headquartered in Shenzhen, China, and possesses over 30 branches in mainland China alone. Moreover, CTI possesses branches in Taiwan, Hong Kong, Singapore, UK, Germany and North America to respond to the needs of a global economy.
For more information about CTI, please visit http://www.cti-cert.com.
ABOUT MET Laboratories: As the U.S.'s first OSHA-licensed Nationally Recognized Testing Laboratory, MET Laboratories is an internationally-recognized resource for regulatory certification of electrical products for the worldwide marketplace. Testing covers a wide range of regulatory, commercial and military standards. MET provides testing services required for specific certifications needed to establish product safety, electromagnetic compatibility, environmental hardiness, telecom, metering, fiber optic, wireless and RFID compliance. MET is also approved under the Verizon ITL program for NEBS testing.
MET Laboratories is headquartered in Baltimore, Maryland, with office locations in Union City and Santa Clara, California, Austin, Texas, Cary, North Carolina, and wholly-owned international locations in Shenzhen, China, Taipei, Taiwan, and Seoul, Korea.
For more information about MET Laboratories, please visit http://www.METLabs.com.
###