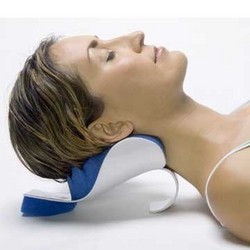 Konawa, OK (PRWEB) June 11, 2008
The internationally acclaimed, Dr Riter's REAL-EaSE® orthopedic neck relaxer is now available online through badbackstore.com - one of America's largest online retailers of remedial back products.
Clenched jaws, headaches, cramps and muscle spasms are some of the symptoms experienced by stress held in our neck and shoulders. Imagine surrendering the weight of your head into a massage therapist's healing hands, while the muscles in your neck, shoulders and face completely relax.
Dr Riter's REAL-EaSE® neck support is useful for:

Relieving eye strain, stress and migraines
Assisting in yoga, relaxation and meditation
Creating gentle traction along the cervical spine
Providing relief for sufferers of TMJ (temporomandibular joint pain)
Recharging after your busy day
How does it work?
Scientifically and orthopedically designed, this is a unique and patented product that works by gently cradling your neck, along the base of the skull, providing deep relaxation, with immediate results. Dr Riter's REAL-EaSE® uses the weight of the head to give traction to the neck and provides unique relaxation benefits. Most people feel relief from tight, "stressed-out" muscles and tension within 30-60 seconds.
This product is safe, portable and easy for anyone to use. Simply place on a firm surface, and lie down on the neck support. There are no inherent risks or side effects. The product has been recommended by many chiropractors and massage therapists, as a self-treatment.
"As a Shiatsu practitioner for the last 6 years, I have seen so many neck and shoulder problems stemming from incorrect alignment and posture. The REAL-EaSE is wonderful because it encourages proper alignment: lifting the head from the occipital ridge, and allowing the neck muscles to release and relax. I highly recommend it for better alignment, less stress, more energy and ultimately, better health." - Mary Kathleen Gordon, ZEN SHIATSU
Product Specifications:
Materials
Hand constructed. The Shell: polypropylene, The Foam: polyurethane
Durability/ Product Compression Test
Test Method: Application of 220 lbs of pressure on product for 30 minutes
Result: No crack appeared on product.
Samples of Dr Riter's REAL-EaSE® are available to media for review.
MEDIA CONTACT & FURTHER INFORMATION:
Michelle Ranells
Bad Back Store
#1Back Pain Relief Website
badbackstore.com
Phone: 580-925-8787
Freecall: 866-457-2225
About badbackstore.com.
With increasing numbers of people suffering chronic back pain and seeking solutions, badbackstore.com is committed to providing information and resources to help ensure sufferers receive high-quality, information (traditional and holistic) enabling them to make informed decisions.
The site is a source of high-quality, value-for-money products spanning ergonomic chairs, to lumbar support and massager's, with the selection largely driven by customer demand and feedback.
Our company directors have over 50 years combined manufacturing and marketing experience in the health industry. Superbly supported by an energetic team of customer service, health professionals, technical, marketing and logistics specialists, we aim to make badbackstore.com number one for pain relief products and customer satisfaction.
Online visitors return to our site to access the latest innovations and developments in spinal care research, which is sourced from leading international research institutes, hospitals, government health resources and increasingly from government approved alternative therapy sources.
###