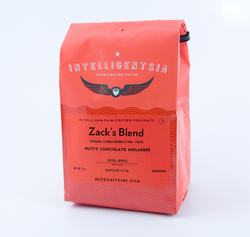 Ideal as a present,is a personally labeled Intelligentsia Coffee Blend...
Chicago, IL (PRWEB) December 10, 2009
NeedCaffeine.com, a premier online retailer delivering artisanal tea and coffee from the world over to doorsteps nationwide, is announcing a special Buy One, Get One Free holiday offer for any coffee, tea, or hot chocolate on any order placed between December 11, 2009 and December 17, 2009. Perfect for holiday gift giving, this NeedCaffeine.com holiday special can be shipped to anyone, anywhere in the United States for a flat $5 shipping cost per order, with delivery by Christmas if ordered by December 17, 2009. This special requires customers to type in the promo code: NEEDCAFFEINE2009 at checkout to receive the special. An inexpensive, thoughtful quality gift for others, or an affordable luxury for you, the NeedCaffeine.com holiday special will bring anyone good holiday cheer.
NeedCaffeine.com provides a place where Intelligentsia Coffee and Lavazza Espresso cravings can coexist, and you'll never have to decide between Mighty Leaf Tea or Harney & Sons' teas. Needless to say, eco-conscious shoppers feel the love, too, with plenty of organic, fair trade and direct trade products to choose from. An ever-changing selection—some rare or limited varieties—heightens the appeal.
Ideal as a present, is a personally labeled Intelligentsia coffee blend, where you can include up to a 50 character message on any Intelligentsia coffee label. So, from Happy Holidays, to Zack's Favorite Blend, to Moms Morning Brew, any private label message can be added to any Intelligentsia regular or decaf coffee blend, in one pound sizes, for the cost of the product plus $3 special labeling fee.
As another great gift idea, NeedCaffeine.com has created special flights of coffees and teas which include three different themed brands, such as the Espresso coffee flight, South American blends, or African blends. For those who don't need caffeine, try a decaffeinated flight. Teas, tucked into sachets or traditional bags, include three box flights categorized by herbal, green, black, organic, chai, and decaf to choose from. Sweetening the pot, all flights are being sold at 10% off the retail price.
NeedCaffeine.com offers accoutrements too, which range from Lavazza Home Espresso Machines with premeasured Lavazza BLUE espresso pods, to quality French presses and teapots.
Launched in 2009, Steve Gorelik and Michael Weisbaum founded NeedCaffeine.com, a Chicago-based online retail company that specializes in bringing its customers the very best quality caffeinated and non-caffeinated coffees and teas from around the globe, delivered to the comfort of your own home or office. Brewing coffee and tea is easy, and an affordable luxury that anyone can enjoy as a part of their daily routine. By trying a variety of different products and blends offered at NeedCaffeine.com, the coffee or tea lover can seek out, taste and smell, and find that perfect cup of Joe or tea, a sensory experience that satisfies and creates a sense of comfort and well-being. For more information, visit http://www.needcaffeine.com.
###