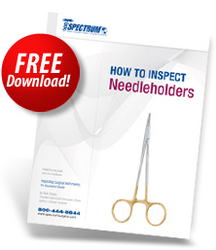 Stow, OH (PRWEB) February 23, 2011
Spectrum Surgical Instruments Corp. is pleased to release its free surgical instrument education guide, How to Inspect Needle Holders. The guide is filled with tips on how to properly examine needle holders and points of inspection.
Keeping up with surgical instrument maintenance can help reduce costly repairs or instrument replacements. Proper inspection of your needle holders is important for accurate surgical instrument performance. Every surgical instrument has its own unique points of inspection. The complimentary educational guide provides steps with illustrations to help guide staff when examining their needle holders. Too often needle holders are inspected incorrectly.
With the easy-to-read guide, gain a better understanding of needle holders for better quality assurance and instrument processing. The guide also offers tips on removing stains from your surgical instruments.
The needle holders guide is available here:
http://www.spectrumsurgical.com/contact/information-request.php
For more information regarding surgical instruments, please contact a Spectrum representative at 800-444-5644 or visit the company's website.
The free needle holders guide is part of a series that also includes: How to Inspect Hemostats and Forceps, How to Test and Inspect Surgical Scissors, How to Test and Inspect Laparoscopic Instruments Guide, and How to Inspect Retractors.
About Spectrum Surgical Instruments
Spectrum Surgical Instruments has been providing a full line of surgical instruments for Human and Animal health since 1982. Spectrum is a leading provider of surgical instrument repair, sharpening and restoration. Spectrum Surgical provides surgical equipment to surgery centers and veterinary centers across the United States.
We have taken a leading role in the industry by providing free educational services about surgical instrument care. The goal is to educate those who come in contact with surgical instruments to ensure that all are aware of the impact they have on patient safety. Our commitment to quality has led us to increase our quality systems and improvement initiatives. We work directly with customers and industry leaders to offer technology, preventative maintenance, and quality products designed to improve patient safety.
Visit the Spectrum Surgical Instruments blog: http://www.spectrumsurgical.com/surgical-instruments-blog
Follow Spectrum on Facebook: http://www.facebook.com/SpectrumSurgical
###