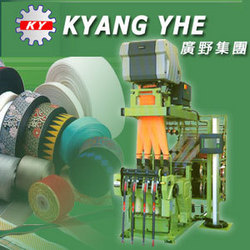 The KY Bengal branch office will provide Bengali customers with quality and on-site local support, such as engineering service, local sales services and after sold services
Bangladesh (PRWEB) February 23, 2008
Kyang Yhe Delicate Machine Co., Ltd (KY Group), a leading manufacturer of Needle Loom, is pleased to announce the formation of a new branch office in Bangladesh. This new KY Group Bangladesh branch will better serve Bengal customers with local engineering and sales support.
"The KY Bengal branch office will provide Bengali customers with quality and on-site local support, such as engineering service, local sales services and after sold services," Stella Sheen, KY's General Manager continued. "KY is extremely trading services and has been providing quality Multi-function Needle Loom, related equipments and materials. We have decided to bring face-to-face corporate support into Bengal to help strengthen our existing relationships and build new ones."
Sheen believes to push a new customer placing an order is not only depending on the well brand image but also building trust between each other. So that a skillful technical team, stable sales team, quality equipment, fast respond, responsibility, marketing, attending to trade shows and word of mouth are indispensable factors.
KY turned itself into a Needle Loom manufacturer since 1964. For more than four decades KY holds its spirit of honest, best technology and world-class quality to serve its customers. Today, it has become one of leading manufacturers in the Needle Loom field.
For many years, the company's core policy is to develop diversification. Its mature R&D team unceasingly seeks improving both on technical skills and products; in the meanwhile, KY energetically develops human resources and creates a better working environment.
KY remained composed facing incremental world wide competitors but boasted its long-standing relationships with vertical and horizontal suppliers and subcontractors. The company is aimed to become a turnkey consultant. It provides Needle Loom as main product as well as all related equipments and materials, such as:label printing machine, label cutting and folding machine, hook & loop fastening tape, computerized narrow fabric Jacquard loom, yarn, beam, spare parts and much more.
In fact, KY has already built the strong marketing channels and supply chains through exporting products and services to more than 80 countries together with international agents locating in more than 20 countries which include Taiwan, China, Turkey and Brazil. Besides, KY Group entered China market more than two decades and owned 9 branched.
Most employees work for KY more than 15 years. Regarding to Sales Manager Siman Tseng who has dedicated to the company for 20 years, staying with KY would never get bored due to its completed services make team members brain stone all the time. On the other hand, open and humanistic administration encouraged employees' imagination and their innovation senses. These would help us on incremental innovation and disruptive innovation where on management, processes or products.
"Employees are company's important asset so that you should treat them with your truly heart. Once they fell love and warm, they will do much more than your expectation in return," added Sheen.
Additionally, KY's manufacturing machines were honored with the title "Taiwan Excellence" which is issued by the Ministry of Economic Affairs (MOEA) Taiwan Branding Program. The Taiwan Excellence is a symbol of excellence, trust and innovation. No wonder KY has strong power to fact competitors from Europe who provide high-end quality looms or labor incentive countries who provide low prices machines.
###