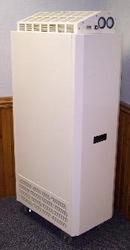 Utica, NY (PRWEB) August 28, 2009
With the looming resurgence of the swine flu pandemic in North America this fall, healthcare facilities are facing a surge in emergency room visits. This increase of patients, who are potentially infectious, will present a challenge for hospitals to protect other patients, staff and visitors from the spread of disease within the facility (nosocomial infections). AeroMed's line of hospital grade air purification equipment provides facilities with many options to help reduce the risk of nosocomial infections and to increase their surge capacity for infectious patients.
According to AeroMed President, Bill Palmer, the use of HEPA filtered exhaust to create negative pressure containment for airborne infectious patients is an accepted, effective and common practice in healthcare facilities. AeroMed manufactures several types and configurations of air purifiers for permanent installation in these isolation room applications. However, when faced with a surge of infectious patients, facilities may need to create temporary negative pressure in place. This is typically achieved by rolling a portable HEPA filtration unit into a room and ducting the filtered exhaust out of the room through a window, return vent or through a wall.
AeroMed portable HEPA air purifiers provide superior performance. Their low noise operation is designed to not interfere with patient care, while it's four stages of air purification provide maximum protection against airborne pathogens. The 700 CFM (cubic feet per minute) of HEPA filtered exhaust allows the unit to create negative pressure while generating twelve air changes per hour in a room up to 21' x 21' x 8' in size. The air intake of this unit is located in the breathing zone enabling maximum effectiveness of removal against airborne infectious particulates.
The AeroMed portable HEPA air purifier's four stages include a MERV 8 pre-filter for removal of large particulate matter; a MERV 14 (95% efficient) intermediate filter removes fine particulates and dramatically extends the life of the HEPA filter. The third stage is an ultra-violet (UV) lamp which bathes the HEPA filter with germicidal irradiation to inactivate pathogens that are trapped on the surface of the HEPA filter. The HEPA filter constitutes the fourth and final stage of air purification and is 99.99% efficient on particles 0.3 microns in size.
AeroMed products are currently in use throughout the United States, Asia and Europe. For more information on AeroMed portable HEPA air purifiers for influenza, tuberculosis and other airborne isolation applications please visit http://www.myAeroMed.com or contact AeroMed by phone at 518-843-3500 or by e-mail at info(at)myAeroMed.com.
###