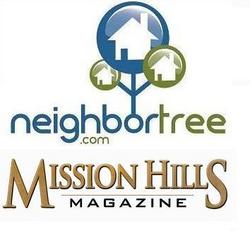 ...cooperating to provide residents of Mission Hills Kansas with a new kind of social networking experience.
Prairie Village, KS (PRWEB) February 9, 2011
After a successful beta launch at the end of last summer, neighbortree's website network has quickly expanded across the US and in several international locations. Over the last four months, the Kansas City Internet company has received valuable suggestions from its growing base of users, and has added new application features based on this feedback. neighbortree.com, a venture capital financed startup, begins 2011 with a bang and will be announcing a series of new business partnerships this year - leading off with Mission Hills Magazine.
neighbortree.com provides free neighborhood websites to any type of residential community. Mission Hills Magazine provides unique, neighborhood specific content in a beautifully crafted and environmentally friendly lifestyle magazine. The web-savvy publisher also provides turn-page editions online, in a high resolution digital format. The two companies are cooperating to provide residents of Mission Hills Kansas with a new kind of social networking experience.
Regarding the alliance, neighbortree.com states: "We've been targeting a variety of partnership candidates in different markets across the country. Mission Hills Magazine represents a strategic opportunity that was not previously on our radar. Their professional, 'hyperlocal' print content is a perfect complement to our neighborhood social network, which features user generated content. The partnership will enable us to promote their magazine online, and they will provide quality content and help us to promote this new Mission Hills social networking website offline – a perfect synergy."
Mission Hills Magazine's Advertising Manager, Brett Miller, says, "As we planned our 2nd year, we wanted to expand the reach of our digital editions, and Neighbortree did just that. Neighbortree's Mission Hills site is fabulous. Their community portal allows the residents of Mission Hills to access a social network featuring Mission Hills generated content! Great area information site, and it's offered as a 'Free' service."
The new community website can be found here: Mission Hills KS. The site features news & announcement blogs, discussion forums, events calendar, photo albums and much more. As with all neighbortree community websites, only residents of Mission Hills Kansas can join. Registered members can post directly to the website - publicly, privately or anonymously.
neighbortree.com will be launching dozens, if not hundreds, of neighborhood websites across the Kansas City Metro area. The company receives daily inquiries from across the country and will continue to establish neighborhood websites on request. The next KC metro neighborhood launch will be Brookside Kansas City – then the company will start rolling out free neighborhood websites on a wider scale.
About neighbortree.com
neighbortree.com is a neighborhood social networking startup that provides free community websites to any type of residential community – including subdivisions, urban neighborhoods, apartments, condo communities, and even small towns and cities. For more information on neighbortree.com, including partnership inquiries and how to get your community online, visit: http://www.neighbortree.com.
About Mission Hills Magazine
Mission Hills Magazine is a life and style magazine distributed to Mission Hills, Kansas residents and available online in a digital turn page format which is accessible by mobile media. The publication features compelling editorial on the people, events and issues that makes Mission Hills one of the most desirable places to live in the United States. Limited local advertising is also featured within the publication.
To view the magazine, go to http://www.missionhillsmagazine.com.
For more information on advertising in Mission Hills Magazine, or to suggest a story, contact Britton Miller-Publisher, Office : 913-710-8698, email: info(at)MissionHillsMagazine(dot)com.
###