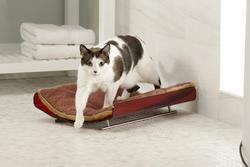 Maneki neko means lucky cat in Japanese
Portland, OR (Vocus) October 30, 2009
Neko Habitat LLC, the boutique furniture company that caters to discriminating pet owners, announced today that Thursday, October 29 will mark its international sales launch. Available exclusively at NekoHabitat.com, the Portland, Oregon-based company will begin selling its debuting three lines of sleek, modern pet beds, the Cradle, the Pan and the Wave.
These beds, masterfully crafted in Neko Habitat's hallmark contemporary style, are designed to pamper kittens, cats and small dogs. They individually retail for $230 to $250 with a flat ground shipping rate of $7.95 within the continental USA (excluding Alaska and Hawaii).
"Maneki neko means lucky cat in Japanese," explained Neko Habitat co-founder Hitomi Yasuda. "And any pet fortunate enough to rest in a Neko Habitat bed is lucky indeed! The Cradle, the Pan and the Wave are unsurpassed in quality and akin to sleeping on a gentle cloud - but also specifically designed to compliment a home's existing décor. Far too often, pet furniture clashes with a room's interior decorations, destroying the entire ambiance. By contrast, Neko Habitat's elegant design actually accentuates your home's décor while simultaneously providing your pet with a comfortable contemplation and perfect sleep."
As for the high price-point, Yasuda readily acknowledged that Neko Habitat products are not for everyone.
"Because our beds represent refinement in the purest form, we cater to a very specific audience," she said. "But if you take great pride in your home's interior design and consider your pet not just another animal, but a treasured, beloved part of the family, we certainly hope you'll visit NekoHabitat.com on October 15. Cats sleep 13 to 16 hours a day - that's two-thirds of their entire life! Our beds ensure that the overwhelming majority of your cat's life will be dreamy and restful, allowing both of you to maximize your enjoyment of the remaining one-third of your time together."
For product specifications, images and to interview Neko Habitat co-founder Hitomi Yasuda, please contact Cara Lee, 402/261.5348, cara (at) fetchingcommunications (dot) com
About Neko Habitat: Merging familiar, soft textures with modern materials, Neko Habitat is dedicated to delivering discerning pet owners the highest quality pet furniture products available anywhere on the market. Elegantly designed with an ultramodern flair, ruggedly durable and vibrantly colored, Neko Habitat backs all its products with a guarantee of complete satisfaction. The Japanese translation of the Neko Habitat company emblem, the "maneki neko," is literally "lucky cat." For more information about Neko Habitat, please visit http://www.nekohabitat.com or call +1 (415) 939-NEKO (6356).
###