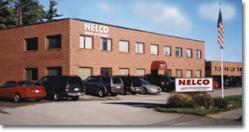 Nelco management addressed the threat of serious domestic economic downturns with a pledge of 'We refuse to participate...'
Pembroke, MA (PRWEB) December 12, 2012
Nelco Products, Inc., an employee-owned and run business, announced today its intention to add an additional 5,300 square feet to its corporate headquarters warehouse, located at 22 Riverside Drive in Pembroke, Massachusetts.
Nelco Products specializes in bulk manufacturing and distributing of wire management and protection products, as well as related wiring accessories.
Since 1984, Nelco Products has delivered excellence in the manufacturing and distribution of the largest selection of cable ties, wire ties, heat shrink tubing, wire connectors, cable tie mounts, HVAC supply products and related wiring accessories worldwide. Nelco Products' success can be accredited to their exceptional personalized service and large product-line. Their selection of products with varying applications and industries has been important in making them a key company in their field.
The company has experienced positive growth throughout 2012. In commenting, Charlie Nelson, Founder and CEO of Nelco Products, explains, "Four years ago, in the wake of recession, Nelco management addressed the threat of serious domestic economic downturns with a pledge of 'We refuse to participate.' Nelco proceeded to develop a strategy to protect and grow business in spite of the weakening economic climate."
The offensive strategy implemented was three-fold:
1) Aggressive cost and expense control,
2) Expand inventory levels in all locations, and
3) Support these efforts with innovative website marketing.
According to Nelson, the results were impressive: market share and industry recognition reached record levels, resulting in substantial sales growth and profitability.
Nelco had been able to take advantage of the recession climate by earning recognition as the lowest priced quality cable tie source in the U.S. market. Nelco fulfills this recognition through new on-shelf inventory levels for same-day shipping. Equally important is Nelco's 100 percent customer satisfaction guarantee.
The planned expansion of Nelco Products is set to begin early 2013, with an anticipated project completion of six weeks. This will increase the capacity of Nelco Products' New England location by almost 30 percent. The plant will grow from 18,000 square feet to 23,300 square feet. This project is driven by the company's commitment to continued efficiency in the order fulfillment process.
In addition to the New England facility, Nelco Products operates nationwide with sales offices in Florida, New Jersey and Alabama, along with a 17,000 square foot warehouse in Clearwater, FL and a 15,000 square foot warehouse in Fullerton, CA. Their Clearwater, FL location underwent a 3,500 square foot expansion in 2011.