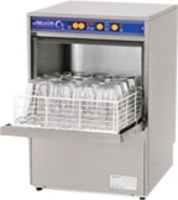 As one of the original, pioneering companies responsible for bringing commercial dishwashers and glasswashers to the UK in the 1970s, Nelson has maintained its position at the top of the market
(PRWEB) March 8, 2010
Nelson has announced the launch of its brand new website, http://www.nelsonwash.co.uk, designed to simplify the choosing process for customers looking for a new commercial dishwasher or glasswasher.
With machines for all budgets and for all foodservice and bar requirements, the new website guides customers through the confusing maze of commercial warewashing machines.
As one of the original, pioneering companies responsible for bringing commercial dishwashers and glasswashers to the UK in the 1970s, Nelson has maintained its position at the top of the market and has accumulated a wealth of knowledge and expertise that enables it to address any situation and solve any problem.
The new website showcases the various models of commercial dishwashers, glasswashers and ice-makers as well as additional features that Nelson can provide. It also emphasizes the importance of getting the right advice right from the beginning; making the right choice by using Nelson's expertise; keeping the machine in perfect working order by adhering to Nelson's simple training and maintenance procedures and having the security of Nelson's background support right through the life of the machine from its team of skilled engineers and technicians.
The commercial dishwasher range includes front-end loading dishwashing machines with capacities from 600 items of crockery on a 2 minute cycle, to pass-through dishwashers which can handle as many as 1300 items per hour with a one, two or three minute cycle. Customers can add optional features such as built in water softener, waste evacuation pumps, and cold water flushing.
Nelson's glasswasher range includes undercounter glasswashers that can handle 16 pints at the low end up to 36 pint glasses or 50 wine glasses at the high end on a 1 or 2 minute wash cycle.
Once the perfect glasswashing or dishwashing machine has been chosen, usually after a free of charge site survey and consultation with a Nelson representative, the website plays a supporting role. This includes simple ordering procedures for customers wishing to buy detergents and chemicals, checking operating procedures, asking technical questions and, when necessary, arranging for a maintenance or service call.
As well as commercial dishwashers and glasswashers they also provide a range of commercial ice makers which can produce between 30kg of ice per hour up to 240kg per hour.
###