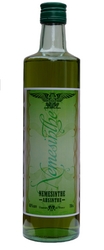 "We are thrilled to be entering the Lebanese market" said LDF owner Ian Hutton. "It is an important market and having Ets. Libra as our exclusive importer presents us with a fantastic opportunity to see our brands in the top bars and clubs in Lebanon."
(PRWeb UK) March 23, 2011
Liqueurs de France Ltd, a UK-based speciality drinks importer and distributor, has entered into an agreement with Ets. Libra of Jounieh, Lebanon for the importation of its brands into the Lebanese market. The first brand to be imported will be Nemesinthe absinthe which will be launched in April 2011. This is the second international agreement finalised by LDF this year. LDF recently announced a deal with a Goa-based company for the importation of its Nemesinthe and Enigma brands into India; Nemesinthe is also widely available in the EU and in Australia.
Nemesinthe absinthe, which recently picked up Silver in the Absinthe Masters 2011 run by the Drink's Business and Silver Medal, Best in Class at the 2010 International Wine and Spirit Competition, is produced at the Timbermill distillery in London, United Kingdom. Nemesinthe is a modern, cocktail-friendly absinthe which will appeal to younger drinkers and is aimed squarely at the club and bar scene. The Lebanese market for wine and spirits is worth in excess of $100 million per annum and much of this is centred on the bars and clubs of Beirut. Absinthe is a relatively recent arrival in Lebanon and LDF expects its expertise as a leading absinthe importer and distributor, combined with Ets. Libra's position in the market to establish its brands with Lebanon's brand-savvy consumers.
"We are thrilled to be entering the Lebanese market" said LDF owner Ian Hutton. "It is an important market and having Ets. Libra as our exclusive importer presents us with a fantastic opportunity to see our brands in the top bars and clubs in Lebanon."
LDF is an importer and distributor of speciality spirits, based in Esher, Surrey, UK.
Ets Libra is an importer of alcoholic beverages based in Jounieh, Lebanon.
###