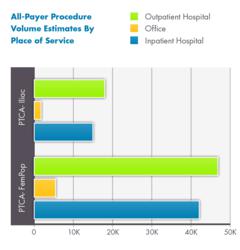 Boston, MA (PRWEB) November 22, 2011
The Neocure Group attended the 2011 Transcatheter Cardiovascular Therapeutics Conference in San Francisco where it launched its first line of data products for medical device manufacturers and providers – the Neocure Focus Report™ Series.
Neocure has created a new service that offers advanced data analytics tools and services for sales, marketing and reimbursement health care professionals. These dynamic tools compile comprehensive raw data from multiple sources into concise, actionable, and strategically relevant information, which enable confident and timely decision making. The data analytics products also feature a built-in menu of one-click, data-visualization tools that allow users to quickly view and share graphic summaries of procedure volumes and costs that are easily adaptable for a user's personal analysis and presentations.
Randel Richner, President of Neocure, presented on the TCT Panel Threats or Promises? New Payment Incentives for Cardiology in the Era Health Reform, comments on how the Focus Report™ Series can best help companies make educated and directed decisions despite the complex health care environment they are currently facing.
"Understanding how often procedures are done in different care settings, the ability to compare payments for doctors and individual hospitals by procedure, can be critically important for predicting purchasing behaviors and patient care patterns in this era of changing payment systems," Richner explained. "No other data company combines the data in such a way that accurately reflects pertinent procedure data that is as immediately accessible and user-friendly as the Neocure Focus Reports."
Neocure Focus Reports™ allow for rapid visualization of market opportunities, sales territory management, clinical trial site identification and a means to understanding economic barriers and opportunities for product commercialization. The Focus Reports™ Series is the only resource to provide visually appealing, data driven, guided analyses which combines reimbursement, cost, clinical and procedure volume information in a single, user-friendly, "off-the-shelf" package.
Neocure founded in 2006 is a consulting firm specializing in health policy, reimbursement strategy, health economics, and global planning to support biopharmaceutical and medical technology companies.
###