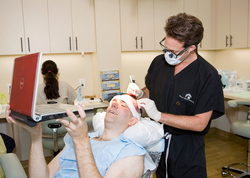 Gorgeous Tiny Chicken Machine Show
Boca Raton, FL (PRWEB) November 17, 2009
Mid-day on Wednesday, November 4th, well over 10,000 people took time out of their day to watch the largest ever FUE/NeoGraft hair transplant surgery performed by Dr. Alan Bauman. The surgery, broadcast live on the Internet and simultaneously on The Bald Truth radio show, quickly became the most-watched live hair transplant procedure in history amid a flurry of emails, blog-posts and 'tweets.'
The patient, actor/writer/director and YouTube star Greg Benson (Mediocre Films), of "The Guild" and "Gorgeous Tiny Chicken Machine Show" fame, had posted several hair loss-related videos and tweets alluding to his upcoming surgery with Bauman several days before flying to Boca Raton from his home in Los Angeles.
"Over 3,378 total grafts were transplanted, making this the single largest FUE surgery we've ever performed," said Dr. Bauman, a board-certified hair restoration surgeon and one of the first U.S. doctors to perform hair transplantation with NeoGraft.
The entire first day of surgery was broadcast live directly from Dr. Bauman's new webcam-enabled OR to the Internet via Skype and Stickam. For more than two hours during the procedure, Benson and Bauman took listener calls from the OR on Spencer Kobren's The Bald Truth Internet-based radio show in Los Angeles. Callers into the show included hair loss sufferers, several of Greg Benson's friends and fellow YouTubers, as well as Bauman's colleague, Dr. Edwin Epstein, President of the International Society of Hair Restoration Surgery.
"This surgical event was a true milestone," explained Dr. Bauman. "It was an overwhelming success both in terms of consumer hair loss education and interest, as well as demonstrating the new hair transplant possibilities with NeoGraft."
Consumer education was Dr. Bauman's top priority with this event, which included promotion and blogging through several social media platforms, including Twitter, Facebook and LinkedIn.
Watch the online video at: http://www.youtube.com/view_play_list?p=6F40991D645AAB84
WHAT IS NEOGRAFT/FUE?
The FDA-approved NeoGraft device helps automate the surgical removal of individual hair follicles and follicular-units one at a time, eliminating the need for doctors to remove a large strip from the back of the scalp (a procedure known as a linear-harvest Follicular Unit Transplant or STRIP FUT). The targeted removal of individual hair follicles, known as "Follicular-Unit Extraction" or FUE, is a minimally-invasive microsurgical procedure that has been available for several years, but until now has been too time-consuming and costly for many patients.
"NeoGraft is an exciting new breakthrough for hair loss patients allowing more men and women to take advantage of the benefits of no-scalpel/no-stitch FUE hair transplants," Dr. Bauman said. "FUE has been an extremely effective surgical option for patients that allows for reduced recovery time, post-op activity restrictions and discomfort, as well as eliminating the tell-tale linear scar associated with traditional hair transplants."
BETTER FOR HAIRLINE, AND WALLET:
Until now, FUE-type hair transplants performed manually were labor-intensive and time consuming, which meant that patients had to undergo multiple surgeries to get the desired effect.
"Now that a more efficient automated device is available, experienced FUE doctors should be able to double the number of grafts transplanted per session or shorten procedure times, saving some patients both time and money," said Dr. Bauman.
The key benefits of a NeoGraft FUE surgery:

Least invasive hair transplant available
No 'tell-tale' linear scar where the donor hair is harvested
Shorter, more comfortable recovery
No stitches to be removed
Less activity restrictions after surgery
Very short haircuts are possible after surgery
Transplants more than twice as many hair grafts in a single surgery as the previous manually-performed FUE surgery in the same amount of time
Cuts the cost of treatment by reducing the need for additional surgeries
ABOUT DR. ALAN BAUMAN:
Alan J. Bauman, M.D., founder of Bauman Medical Group in Boca Raton, Florida, is a top U.S. medical expert on hair loss and restoration for men and women, including eyelash, eyebrow and scalp transplants, as well as low level laser therapy. Dr. Bauman was the first hair transplant surgeon to demonstrate the FUE method of hair transplantation at the International Society of Hair Restoration Surgery's Orlando Live Surgery Workshop in 2004 and developed the first commercially-available instrument for manual extraction of FUE grafts, called the 'Bauman MINDEX.' Known for his expertise in female hair loss, approximately 50-percent of Dr. Bauman's patients are women. Dr. Bauman has been accepted by the International Alliance of Hair Restoration Surgeons, recommended by the American Hair Loss Association, is a Diplomate of the American Board of Hair Restoration Surgery and is a featured lecturer at many major medical conferences. Websites: http://www.baumanmedical.com and http://www.youtube.com/baumanmedical
ABOUT GREG BENSON:
With a background in sketch comedy, actor/writer/director Greg Benson has become one of YouTube's most well-known personalities. From his own home production studio Greg creates irreverent prank videos, comedic short films and popular Web series which are best suited for the short attention spans of Web viewers.
Greg's videos have gone from scoring top hits on YouTube (where his channel MediocreFilms is one of the 'Most Subscribed of All Time'), to promoted channels on MySpace and iTunes, to recent appearances on ABC, NBC and FOX. He has also directed projects for studios such as MTV, Sony Pictures Television and 20th Century Fox, and companies like Microsoft, Pizza Hut and Polk Audio. He has also starred in numerous national commercials and other projects.
Greg directs several hit Web series including "The Guild" (winner of Best Online Series at the YouTube, Yahoo & Streamy Awards). Projects Greg has created or directed have amassed over 100 million online views.
###