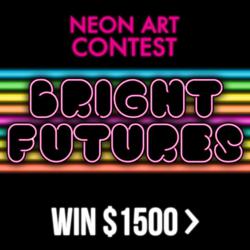 Our Bright Futures contest is designed to help capture the movement and unlimited possibilities that neon colors can bring
Chico, Ca (PRWEB) January 29, 2013
It's time to pull out a whole new color palette to get ready for spring's hottest shirts. Design By Hümans, an online community of artists and t-shirts lovers that celebrates the art of graphic t-shirts, is calling on artists to submit for designs for the Bright Futures neon T-shirt design contest. Graphic design artists can submit neon shirt designs between now and Feb. 15 for a chance to win $1,500.
"Neon T-shirts are great for the spring and summer months, whether at the beach, park or concert, the bright colors have a unique eye catching appeal," said Design by Humans Managing Partner Jeff Sierra. "Our Bright Futures contest is designed to help capture the movement and unlimited possibilities that neon colors can bring and we look forward to seeing what the community can come up with."
Between now and Feb. 15, artists can submit unique neon t-shirt designs using only the standard 14 neon Pantone colors like hot pink and electric blue for a chance to receive up to $1,500. The second place design will receive $1,000 and the third place winner will receive $750. Each of the shirts will be printed and available for sale on starting March 6.
There is no limit to the number of design submissions that an artist can enter. All submissions must be 100 percent unique and use a maximum of eight colors for standard prints and three colors for all over prints. The following Pantone colors are the only ones allowed in the entry: 801C, 802C, 803C, 804C, 807C, 808C, 809C, 810C, 811C, 812C, 813C, 814C and black. Submissions will be approved/rejected at Design By Human's discretion.
Prizes:
1st Place - $1500
2nd Place - $1000
3rd Place - $750
Deadlines:
Feb. 15th - Last day to submit designs
March 6th-8th - Winners Announced
To submit a design for Bright Futures, or for more information on Design by Humans, please visit Design By Humans.
About Design By Hümans
Design By Hümans promotes unique, creative and trendy t-shirt designs; its online community is dedicated to buying, designing and celebrating the art of graphic t-shirts. Each day there is a new designed shirt, selected from hundreds of creative submissions. At Design by Hümans, we support and inspire humans to create the best T-shirt for fellow humans. Our give back contests support communities and relief efforts worldwide. We have many contests designing shirts aimed at supporting creativity and pushing the boundaries of screen-printing techniques. Contests range from worldwide causes, musicians, creative themes helping the community and arts. Inspire others by being part of a community and owning unique T-shirts. Support the worldwide art community by wearing your favorite artists' work that are printed on high quality cotton using environmentally friendly inks and the most advanced printing methods. Design By Hümans is a community that everyone can be a part of today. Shop, buy, discover, vote and create the next big trend in apparel design. For more information visit DesignByHumans.com.