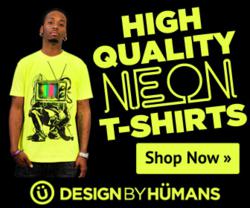 Neon T Shirts Bring on Bright Futures
Chico, CA (PRWEB) February 28, 2013
New neon t -shirts and blanks are setting the next spring trends. The influence stems from new trends in music, festivals and a need for bright and bold color. Design By Humans thrives in innovating and promoting the next trends in t-shirt design. Neon shirts are a step into a new style of fashion and design.
In a highly competitive neon themed design contest, the best designs will be ready for the next spring trend. The release of the neon contest winners will be announced on the week of March 6. The top three winners were selected from over 230 designs. The contest entries were only allowed to use neon pantone colors in the design. The result was a super bright collection of entries. The top three winners will be announced starting March 6th.
This week at Design By Humans there was a release of Limited Edition Neon T- Shirts: The Last Goodbye, Zebra Art, and Day of the Dead. All got a limited edition reprint using neon inks. In addition, there are the classic bests such as Cool and Wild and the legendary Dino Frenzy. These tees are a new style for the spring neon shirt trend.
Establishing new trends in the fashion industry is a great originality, creativity and boldness to start a new trend. There are new trends for every season. Neon's are always a great way to brighten up the winter and brighten up the spring and summer months. Join the music, flowers, and uplifting vibes of a Bright Futures that are starting this trend. The neon t-shirts have a new level of brightness that attracts attention and shows vibrant color.
Design By Humans is an online retailer for graphic t -shirts. An entire community based around t-shirt design, supporting artists, and fashion trends. Everyday a new t-shirt is produced and on sale for 24 hours. There is also an entire Collective of artist stores, where artists manage t-shirt designs themselves. Join the community and shop a creative world of graphic tees from DesignByHumans.com.