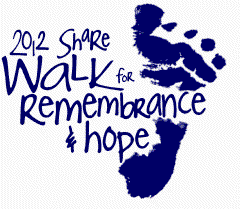 Now the processes of social fundraising and event registration are streamlined into one cohesive element because of Neon. Gone are the days of exporting, importing and cross-referencing data.
Chicago, IL (PRWEB) November 15, 2012
One of the best parts of being a part of the Z2 Systems community is seeing how different nonprofit organizations utilize the NeonCRM to achieve the fundraising goals of their mission. We'll be spotlighting one of those today - Share Pregnancy & Infant Loss Support. We talked with Megan Nichols, their Development & PR Director, to discuss one of their biggest fundraising events - the Walk for Remembrance & Hope.
Share serves families who experience the death of a baby during pregnancy or shortly after birth. We offer peer to peer support groups, information packets, phone support, hospital visits and much more all free of charge. Share also provides training to healthcare professionals on topics such as perinatal bereavement, how to run an aftercare program, memory making and the rights of bereaved parents.
Share is truly an agency unlike any other. Share is not funding research or seeking to prevent these tragedies from happening, but rather introducing families to a community of understanding where their grief can be openly expressed and their baby's life acknowledged. It Share's goal to provide those they serve with a positive resolution to their grief.
On October 20, Share held the 11th Annual Share Walk for Remembrance & Hope. What began as a memorial service for 25 Share families has grown into an incredible awareness opportunity for perinatal bereavement that generates over $80,000 to support Share's programs and services. Over 3,000 participated this year among 165 teams in memory of 425 babies.
The event is hosted every October to honor Pregnancy & Infant Loss Awareness Month as declared by President Reagan in 1988. All 93 Share chapters across the country are invited to host a Share Walk in their area in congruence with the national office event.
Share has managed event information through various efforts before using the recently implemented NeonCRM - i.e. they have used Active Giving, RegOnline, an Access database and Excel spreadsheets. It was difficult for Share to keep track of it all until now. Now the processes of social fundraising and event registration are streamlined into one cohesive element because of NeonCRM. Gone are the days of exporting, importing and cross-referencing data.
Share has always received support through paper registrations and pledge tracking, and less than 5 years ago these were the only options Share offered. With electronic formats growing exponentially, they knew it was time to take the necessary steps to improve their processes and to stay current. Share implemented online fundraising in 2008 and online registration in 2011.
The NeonCRM online registration and fundraising processes worked really well for Share and their constituents signing up and donating. They had over 300 new attendees and raised over $25,000 with their social fundraising campaigns! Share also doubled their number of social fundraisers and had growth in their event merchandise sales.
NeonCRM helped keep Share on track to meeting and exceeding their event goals. Through the different modules within the system, Share was able to keep their constituents engaged and informed.
Share sees nothing but opportunity for the Share Walk for Remembrance & Hope in the future. They plan to increase their revenue by 30% for 2013 based on the response and growth from this past year alone.
Interested in learning more about Share and their mission? You can check out their website or contact Megan by emailing her: MNichols(at)nationalshare(dot)org. If you want to support their mission, also consider making a donation. Click to learn more about World Prematurity Day as well.
NeonCRM by Z2 Systems, Inc. empowers nonprofit organizations to raise more money, while helping staff manage day-to-day processes more efficiently. Online forms integrate with any website, auto feed to NeonCRM, and allow for real-time credit card processing and recurring payment scheduling. Learn More about NeonCRM.