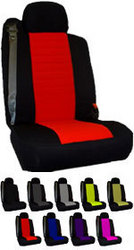 Mesa, AZ (Vocus) April 22, 2010
Custom seat covers have always been the forte of Seat Covers Unlimited, an Arizona-based seat cover manufacturer. Now, Seat Covers Unlimited is pleased to announce the addition of a new type of custom seat cover which can be tailored to fit any make or model of car, truck and SUV. The Neo Sport: Custom Neoprene Seat Covers are completely waterproof, and padded with 3/8 inch of foam to provide maximum comfort.
The colors of the neoprene seat covers can be customized as well. With nine (9) different colors to choose from, you will be able to find a custom seat cover that matches up with your car's interior or exterior. Seat Covers Unlimited also offers custom neoprene arm and head rest covers, steering wheel covers and seat belt covers in the same colors as the seat covers. With these options, you can fully customize and protect the interior of your car.
Built for protection as well as comfort, the Neo Sport seat covers are perfect for the outdoor enthusiast. Neoprene seat covers are easy to clean, waterproof and comfortable – just what the outdoorsman needs after spending a day in the wilderness. The Neo Sport seat covers can be customized to fit every make and model of SUV, so you will always be able to ride in comfort and in style. Seat Covers Unlimited is also offering free shipping on all neoprene seat cover orders.
About the Company:
Seat Covers Unlimited has been manufacturing and distributing custom seat covers for over 25 years. Their commitment to using quality products in each and every one of their seat covers has led to their success. At Seat Covers Unlimited, you will be able to find a custom seat cover to fit every make and model of vehicle possible.
For more information, please visit http://www.seatcoversunlimited.com or call 1-888-410-5050.
# # #