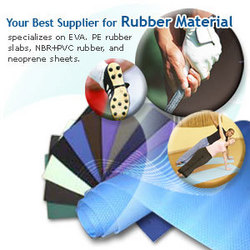 We accept OEM applications from manufacturers and processing factories in comprehensive industries, from sport accessories, shoes, slip strap pad, mug wrapper, laptop bag, to motorbike handle grips. We definitely make it possible as long as our customers ask for it
(PRWEB) December 6, 2007
Following growing global market change, Hon Mon announces more focus on high-tech cushioning rubber production and advanced technology, which signifies its strong ambition in market development and brings more choice to customers.
"As our ultimate commitment to understand customers' needs, we completely believe our rubber material will be applied for wide range of products, such as sport protection pads, baseball gloves and shoes soles," Hon Mon General Manager Bella Hsu said.
As a rubber semi-finished products supplier, Hon Mon has over thirty years experience with professional and effective OEM services. Its main products include Chloroprene Rubber (CR) Neoprene Sheet, Styrene Butadiene Rubber (SBR) Neoprene Sheet, EVA, PE Rubber Slab and multi-function mats.
Taking a closer look at Hon Mon 's products, its CR foam rubber sheet has excellent non-water absorption character for keeping fabric warm, to facilitate application and laminating. With strong flexibility and resilience, SBR neoprene sheets have high resistance in water and been great used in insulated can holders, sports gloves, mouse pads and pet collars. CS neoprene sheet has strong durability and stabilization. Hon Mon is also proud of their exclusively developed rubber sponge-Thermoplastic Elastomer sheets, which is elastic, soft with has a good skin.
Up to the present, Hon Mon has worked with many OEM applicants such as water entertainment equipment, shoes, sport protection pad, and medical equipment manufacturers in China, Australia, Brazil, South Korea and Turkey.
With a long term relationship with upstream suppliers, Hon Mon can absolutely guarantee a high level of product quality. All raw rubber is supplied by theFormosa Plastic Corporation, TSRC Corporation, Taiwan - all well-known rubber production companies. Moreover, a strong connection to worldwide downstream processors also shows Hon Mon 's quality is built on trust.
In order to provide massive output of high quality rubber items within a short period of time, Hon Mon's ISO 9001 certified factory is well supported by foam rubber and rubber products manufacturing lines, it has also made a great effort to invest on factory facilities. Its Calendar roll, Foaming machine, Vulcaniser and Extruder are fully equipped.
Regarding environmental safety, using recycled rubber material and taking good care of rubber waste have become major issues. Hon Mon insist its multi-functional mats are made of neoprene recycled materials. It also emphasizes better control of all processes, minimizing spills and leaks and maximizing energy efficiency. Hon Mon even has its own method for rubber waste disposal.
Hon Mon has also become one of the most highly-recommended semi-finished rubber manufacturers in China. It has worked with soft rubber tube and motorbike handle bar grips manufacturers in many years. With sales offices in Shanghai, Hangzhou and Qingdao cities, Hon Mon continues seeking more cooperation with the sewing and processing industries and rubber development centers.
To meet more customers from all over the world, Hon Mon is ready to attend international trade shows such as the International Trade Fair of Plastic and Rubber in Germany, the Taipei Rubber & Plastic Industry Show, and the BRASILPLAST Show. Hon Mon is sincerely looking forward to achieving business success with customers.
Versatility is Hon Mon's advantage
"We accept OEM applications from manufacturers and processing factories in comprehensive industries, from sport accessories, shoes, slip strap pad, mug wrapper, laptop bag, to motorbike handle grips. We definitely make it possible as long as our customers ask for it," General Manager Bella Hsu added.
###