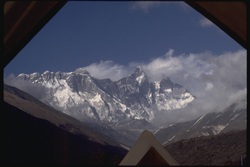 Ann Arbor, MI (PRWEB) January 16, 2008
As the popularity of yoga, meditation and holistic healing continues to rise, JOURNEYS International is proud to announce a new tour that combines the spiritual and healing aspects of yoga and meditation with the cultural introduction of Nepal.
The Himalayan Yoga and Meditation Trek offers travelers from around the world a unique experience by uniting the holistic healing of yoga and meditation with the exploration of the country where it originated. This 12-day tour, scheduled from October 11 through October 22, 2008, includes visits to sacred Buddhist and Hindus sites, historic temples, rural communities and villages where each yogis on this trip will have the opportunity to participate in spiritual instructional sessions with area priests and monks. Scenic views of the Himalayan mountains, picturesque villages, lush groves of giant sacred fig and mango trees and ancient lake beds are just a few of the sites that one will see on this trip.
From daily hikes to cross cultural experiences, this trip offers avid yogis the opportunity to explore the beautiful and culturally diverse Nepal all the while participating in guided meditation and yoga sessions. Although this trip requires good physical conditioning and some previous experience in yoga and meditation, it is the ideal way to find the spirit and rhythm of rural Nepal.
To help ensure the enjoyment of the Himalayan Yoga and Meditation Trek JOURNEYS has enlisted the help of Pemba Sherpa, who has over 30 years of experience in leading American trekking groups to Nepal and is an avid yoga practitioner. Also leading the trip will be Shay Pacetti who is a trained yoga instructor and has studied Anthropology with a focus on Asian cultures at the University of Colorado and is especially drawn to the practices of Hinduism and yoga.
The trip organizer, JOURNEYS International of Ann Arbor, Michigan, was recently chosen by National Geographic Traveler magazine as one of Ten "Best Outfitters on Earth." JOURNEYS International has specialized in ecotourism since 1978. They offer the best nature tours, safaris, treks, adventure travel, family and cultural trips on earth. Whether it is called an eco vacation, adventure travel, ecotravel, ecotour, sustainable travel or responsible travel, for nearly 30 years they have been creating ecologically sensitive and culturally responsible travel to exotic destinations around the world. Specialty ecotrips include women's tours, Kilimanjaro climbs, exploration cruises, festival trips, student group trips and cross cultural and wildlife safaris. For more information about this trip or other JOURNEYS trips visit http://www.journeys.travel or contact JOURNEYS at 800-255-8735.
###