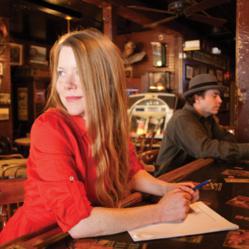 Teaching history through song . . . Learn about the life and daily tasks of a lighthouse keeper.
Worcester, MA (PRWEB) November 01, 2011
Watch the music video "Lighthouse Keeper" by Neptune's Car.
Have you ever wondered what it would be like to be a lighthouse keeper? Inspired by the heroic life stories of female lighthouse keepers Abbie Burgess, Ida Lewis, and Katherine "Katie" Walker, singer/songwriter Holly Hanson wrote the song "Lighthouse Keeper" to teach a home school history lesson to her two young boys.
Teaching through song is how most of the debut album "Strawberry Moon" by Neptune's Car was formed. As the collection of songs grew, Hanson sought out other musicians and formed the Folk/Alt-Country duo Neptune's Car with guitarist/songwriter Steve Hayes.
Not one to just research and form these story songs on paper, Hanson lived the life of a lighthouse keeper last March as she and her two sons cared for the Rose Island Lighthouse in Newport, Rhode Island. You can follow along with Hanson's lighthouse adventures on her lighthouse blog.
The music video for "Lighthouse Keeper" was shot on location at the Portsmouth Harbor Lighthouse and Great Island Common in New Castle, New Hampshire. Lighthouse historian, author, preservationist, tour guide, photographer, and president of the American Lighthouse Foundation Jeremy D'Entremont directed, filmed, and edited the music video.
# # #