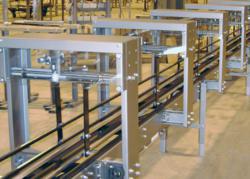 Oshkosh, Wisconsin (PRWEB) June 11, 2012
Nercon Engingeering, a designer and manufacture of packaging and process conveyor systems, is ramping-up technology to help customers with changeover efficiency. Growing to hundreds of available application specific innovative options, Nercon's changeover offerings range from low-tech adjustable bracket and rail assemblies to fully automated guide rail systems.
Nercon's conveyor changeover specialists have developed the following programs and events to communicate and educate customers on the company's conveyor changeover equipment.

New videos and web pages on conveyor changeover solutions
A new white paper, "Packaging Line Changeover: Conveyor Technology that Cuts Time"
An ROI analysis tool that compares purchase cost to changeover man hours
A "Changeover Solutions" display at Pack Expo, Chicago, Oct. 28 – 31, Booth #4026
An upcoming webinar, "How to Reduce Changeover Time Using Conveyor Technology," Live on August 9th at 1pm, CST. Visit http://www.nercon.com for registration link.
Nercon is a well know designer, line integrator and manufacturer of packaging and process conveyors and material handling equipment. The company has over 35 years of experience providing engineered conveyor systems to manufacturers of consumer products through North America.
For more information about Nercon Eng. & Mfg., Inc. and their offering in conveyor changeover, visit http://www.nercon.com.