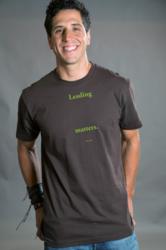 Typography is part of the hidden-in-plain sight secret behind good visual communication.
Santa Cruz, CA (PRWEB) May 30, 2013
Typography fans are never going to sit in the bleachers cheering and waving a giant hand, but they just might spend some time analyzing the font used on the scoreboard: typography is part of the hidden-in-plain sight secret behind good visual communication. Typography, layout, and graphics are the elements of that communication, and three new t-shirts from Tees For Your Head focus on typography.
Graphic design done well is nearly invisible, supporting the message it carries. Done right, it creates visual integrity by melding the look of a printed piece and its content.
One of the areas the personal computer has upended is graphic design and its use of typography. Tools are in the hands of every three-year-old in the country and the daily visual landscape is changed because of it. The high demand for ever more quirkiness and personality in typefaces has led to fonts that don't build in graceful letter pairs, kerning, accented or special characters, or a host of other niceties that elevate a font from fun to professional and beautiful (which can still be fun).
Students laying out a poster for school have no idea of the complexity and power of typography and they don't need to know to make that poster. The students don't get the jokes in the typography t-shirts, but the professionals do.
The typography-geek tee called Leading Matters confounds the uninitiated from the beginning: the word "leading" is not pronounced like bleeding, it's pronounced like heading, and it means line spacing. Read the shirt and see what it does to the mental reading voice: the exaggerated leading interrupts the flow of reading, demonstrating, through an example of what not to do, the importance of leading.
The T Shirt celebrates Trajan Pro in a huge size that lets every curve and angle of the letterform be seen. The tee is also good for people who tend to be forgetful: oh right, this is a T-shirt. Doh!
For the third new typography t-shirt, called Showoff, the battle between serif and sans serif fonts is joined. Or maybe battle is too strong a word, and this is more like prejudice: he who is different is the enemy. Poor guy with no serifs, jealous of the fancy guy.
Tees For Your Head designer Karin Carter claims only to be a lover of typefaces and typography, not an expert. "I became aware of fonts when desktop publishing (we don't even use that term anymore!) came into existence. I used to work in tech, and loved to see typographers' handwritten typeface on whiteboards. The artistry, knowledge, and physical control it takes to draw a typeface by hand is mind boggling."
Carter has one tip for the layman. "Never use Papyrus or Comic Sans! Those two typefaces have been so overused that they'll mark your work as amateur. There are plenty of good books on using type, and you can learn anything on the Internet now, so it shouldn't be hard to pick up the basics like how to calculate line lengths that keep readers from losing their place when reading lines of text, and how to use type size to indicate hierarchy." Okay, that's two tips: don't use Papyrus or Comic Sans, and learn the basics.
Go forth and practice good typography.
About Tees For Your Head
The online home of geeky t-shirts for lovers of the arts and sciences was launched in 2012. Husband and wife team Tom Bates and Karin Carter have an arts and science background and create their own designs to appeal to the nerds of the world. Santa Cruz tee shirt designs are in the works for this Santa Cruz-based business.
By the way, Tees For Your Head shirts are worn on the body, not really on the head. Just a helpful hint.
Find their unique and nutty tees at http://www.teesforyourhead.com online now.