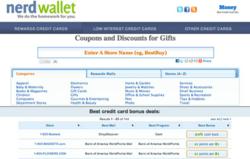 Taking advantage of perks associated with credit cards is a good way to enjoy Valentine's Day without putting yourself in debt.
San Francisco, CA (PRWEB) February 07, 2012
According to an annual National Retail Federation survey, Americans will spend $17.6 billion in honor of cupid's arrow, an 8.5 percent increase from last year. That's the highest it's been in the decade since the poll began.
Factoring in all the dinners, movie tickets, flowers, jewelry and all else that's part of the wooing process -- love comes with a price tag. As a result, consumers are looking for ways to save money without compromising their relationships this Valentine's Day.
NerdWallet, one of the nation's premier credit card and personal finance websites is playing "credit card cupid" by finding the best deals to help consumers love the perks associated with their credit cards, as much as they love the perks associated with being in love!
Flowers, gift cards, jewelry and electronics top the chart for the most sought after gifts to give on Valentine's Day. Given that, here are a few good deals to consider:
1. More Bloom for Your Buck
Everyone loves getting a beautiful bouquet of flowers, but it does get a little hard to justify spending upwards of $70 on something that will last maybe a week.

American Airlines offers more of an incentive by giving you 9 AAdvantage miles for every $1 spent on ProFlowers.com as opposed to the 1 mile per dollar that typical credit cards pay.
If shopping at 1800Flowers.com, you can earn 10x American Express Membership Rewards Points, or 10% cash back through the CitiBonus Cash Center at 1800Baskets.com. Why not make it a combo? For every $1 spent on Godiva.com, you can earn 5 extra Chase Ultimate Rewards Points - a sweet deal for both of you.
2. When in Doubt – Give Gift Cards
For those who don't know what to give and don't feel like being creative, give a Gift Card earning you:

20% cash back on Restaurant.com gift cards at ShopDiscover
10 Amex Membership Reward Points per $1 on Wine.com
7 Bank of America Worldpoints per $1 on Red Envelope
3. Bring on the Bling!

You can get 10 points for every $1 spent at ICE.com through the Capital One Perk Central site. If you're really looking to seal the deal, you can also head over to BlueNile.com to browse engagement rings and earn 7 Marriott hotel points per $1 spent.
4. Electronics
Is your loved one "always on"? If so, you can't go wrong with these deals:

10 CapOne No Hassle Miles per $1 at Brookstone
6% cash back at Buy.com with FatWallet
5% cash back at Best Buy with ShopDiscover
30 AAdvantage miles per $1 spent at Skype (good for those long distance relationships!)
5. Guy Gifts Galore
Don't fret, guys! Valentine's Day isn't just for the ladies. If jewelry and flowers won't quite do the trick:

Chase Ultimate Rewards is offering 5 points per $1 so you can spruce up your work wardrobe at Charles Tyrwhitt.
Or drop a hint that you could use a gym buddy and earn 10% cash back at Under Armour through ShopDiscover.
For the golfers out there, you'll earn 6 Choice Privileges Hotel points for every $1 spent at GolfSmith.
6. Single and Ready to Mingle

Flying solo this Valentine's Day? Well it turns out discounts aren't just for couples - you could earn 50 Bank of America Worldpoints for registering with Match.com and another 50 Choice Privileges points for eHarmony. Or you can just treat yourself to all these nice deals, so you get the presents and the bonus points! Now that's what I call gettin' some love.
7. Even More Discounts:

There are thousands more discounts to be found using the NerdWallet Discounts Tool, so you can compare cash back and bonus deals at all of your favorite stores.
If you don't have a Discover card to use at ShopDiscover, you may be able to find similar (or better) deals with your Citibank Card, Capital One Venture Card, Marriott ShopMyWay Mall, American Express Premier Rewards Gold Card and more.
If you don't have a credit card at all, frequent flyer mile and hotel point deals don't require a specific card, just a membership. Other sites like FatWallet, eBates, Zestii, and UPromise all offer cash back deals through their websites, with no rewards points or credit card required.
"With Valentine's Day approaching, we're all in love with spending," says Tim Chen, founder and CEO of NerdWallet. "Taking advantage of perks associated with credit cards is a good way to enjoy Valentine's Day without putting yourself in debt."
About NerdWallet
NerdWallet, one of the nation's premier personal finance sites, helps its users save money and time finding credit cards, credit unions and deposit rates online. NerdWallet was rated Money Magazine's best credit card site in 2010 and has been featured in The New York Times, Forbes and by consumer advocate Clark Howard. It currently tracks more than 1,700 credit cards, offering personalized advice for savers, students, jetsetters and more.
###