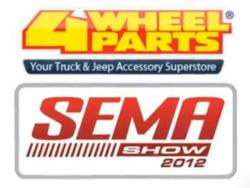 telephone, and mail-order retail system. The 4 Wheel Parts booth was setup in the Upper South Hall of the convention center for the entire week of the SEMA show, giving an estimated 60,000 attendees a chance to get up-close
(PRWEB) November 07, 2012
4 Wheel Parts, the industry leading retailer and distributor of aftermarket truck accessories and equipment for off-road trucks, Jeeps, and SUVs, participated in the Specialty Equipment Market Association (SEMA) show at the Las Vegas Convention Center in Las Vegas, Nev., Oct. 30 – Nov. 2. The SEMA show is the largest automotive convention in the United States, covering all types of automotive specialty market segment, including a large section for racing and off-road applications. The SEMA trade show offers a chance for vendors, manufacturers, and consumers to see state-of-the-art products and services for the automotive aftermarket. 4 Wheel Parts was on site at a booth exhibit in the Trucks, SUVs, and Off-Road section of the trade show featuring nerf bars, running boards, and other great truck Jeep and SUV parts.
The 4 Wheel Parts booth at SEMA located at Booth #35113 in the Upper South Hall of the convention center showcased truck, Jeep, and SUV products from numerous manufacturers affiliated with the distributor. In addition, the 4 Wheel Parts booth illustrated how its network of 56 stores is supplemented by a robust e-commerce, telephone, and mail-order retail system. The 4 Wheel Parts booth was setup in the Upper South Hall of the convention center for the entire week of the SEMA show, giving an estimated 60,000 attendees a chance to get up-close to the retailer's products and services.
The Trucks, SUVs, and Off-Road section of SEMA features a large number of exhibitor booths from retailers, manufacturers, and assorted intermediaries showcasing their products and services to all in attendance. There were hundreds of custom two-, four-, and all-wheel drive vehicles on display, customized with the latest parts and equipment. The show also featured dozens of demonstrations catering to auto enthusiasts of all types.
About 4 Wheel Parts: 4 Wheel Parts is a retailer and service provider specializing in aftermarket parts for off-road and 4x4 enthusiasts. With 56 locations nationwide, 4 Wheel Parts supplements its retail centers with a robust mail-order and e-commerce distribution network to serve customers around the country and around the world. 4 Wheel Parts carries a large inventory of truck and Jeep parts, including lift kits, tonneau covers, tires, winches, and more.