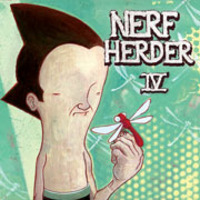 Why you stuck-up, half-witted, scruffy-looking nerf herder!
Los Angeles California (PRWEB) February 28, 2008
Nerd Rock favorites Nerf Herder will be releasing their fourth album entitled "IV" on April 29th via their new deal with Oglio Records, distributed by Fontana/Universal. "IV" is produced by Angus Cooke (former The Ataris), owner of legendary Santa Barbara based Orange Whip Studios. Nerf Herder will tour to support "IV" which includes odes to cassettes, orange backpacks, golf shirts, orb clutching dragons, manatees, the awesomeness of Led Zeppelin, Santa Barbara, high school dances and later high school reunions all mixed with perhaps the album's greatest secret ingredient, unrequited love.
The razor witted "IV" continues in the vein of the classic Nerf Herder of "Sorry", "High Five Anxiety", "Mr. Spock" and "Van Halen" fame, securing the band as one of melodic Geek Rock's leading lights. Lev Grossman from Time Magazine's "Nerd World" blog recently had not one but two Nerf Herder tracks in their Top 10 All Time Nerd-Pop and Nerdcore Songs. The new track "Led Zeppelin Rules" is an iTunes pre-release digital single, the non album "Affirmative Action" is an iTunes exclusive bonus track and the first official single from Nerf Herder "IV" is the lethally hummable pop masterpiece "WTC #7". New music videos include "Oh Me, Oh My" and an animated video for "Manatee" by the brilliant Nathan Mazur ("Do You Like Waffles" from the Parry Gripp solo CD "For Those About To Shop, We Salute You").
The band takes their name from a Star Wars Episode V The Empire Strikes Back reference --- when Princess Leia insults Han Solo with "Why you stuck-up, half-witted, scruffy-looking nerf herder!". They are also responsible for the Buffy The Vampire Slayer theme song and performed as the very last band to play the shows fictional venue during Buffy's final season. Nerf Herder music can also be heard in the MLB 2K7 video game.
Nerf Herder is Parry Gripp, Charlie Dennis and Steve Sherlock. Linus of Hollywood will join the band for their 2008 live tour. Visit the Nerf Herder websites for tour dates and more. Get Nerf Herder 300 dpi cover art and listen to the full album streaming at the Oglio Records website, http://www.oglio.com . A limited edition t-shirt/CD combo fan pack will be available at CoolCDs.com
Nerf Herder Website
Nerf Herder MySpace
Nerf Herder YouTube Channel
Oglio Records Website
Nerf Herder "IV" Track Listing
1) Oh My, Oh My
2) Golfshirt (Part 2)
3) High School Reunion
4) WTC #7
5) Dianalee
6) Crocodile
7) Manatee
8) Garage Sale
9) Led Zeppelin Rules
10) Dance
11) I'm Not A Loser
12) The Backpack Song
###