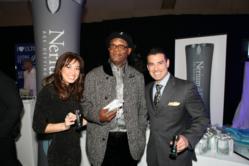 Addison, Texas (PRWEB) February 20, 2013
Nerium International, a marketer of age-defying Nerium skin care products, was pleased to be invited to be the exclusive skincare of the National Association for the Advancement of Colored People (NAACP) Image Awards' Gifting Suite.
The 44th Annual NAACP Image Awards aired live on Friday, Feb. 1, 2013 on NBC. The event honors the accomplishments of people of color in a variety of artistic fields, such as music, film, television and literature.
Every guest in the Image Awards Gifting Suite received Nerium skin care product. Notable guests included Samuel L. Jackson, whose performance in Django Unchained earned him the award for Best Supporting Actor in a Motion Picture. Performers Wyclef Jean and Common only brought the audience to its feet, and also enjoyed the free gift of NeriumAD.
Gladys Knight and Vanessa Williams were nominated for Best Supporting Actress in a Comedy Series, Gladys for her role as Grandma Carolyn in The First Family and Vanessa for her portrayal of Renee Perry on Desperate Housewives. While the competition was close, Vanessa went home with the award. Both actresses gladly accepted their NeriumAD before the night was over.
To learn more about the astounding age-defying qualifies of Nerium skin care products, please visit the Nerium blog.
About Nerium International:
Nerium™ International, LLC, headquartered in Addison, Texas, markets breakthrough products validated by science. In 2011, the relationship marketing company partnered with Nerium SkinCare™ Inc. (a subsidiary of Nerium Biotechnology, Inc.®), to deliver the NeriumAD™ skincare line. These first-of-their-kind products – clinically proven to reduce the appearance of fines lines and wrinkles – are the result of leading-edge research into the Nerium oleander plant and its age-defying results when applied to the skin. Led by an executive team with more than 150 years of collective experience, Nerium International is committed to developing and distributing skincare products that are rooted in real science and produce real results that improve consumers' lives. For more information, please visit Nerium.