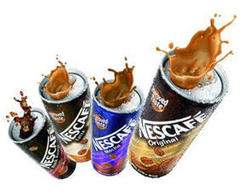 Here's what you need to know
Petaling Jaya, Selangor (PRWEB) August 2, 2009
If you think you have a way with words and have an active imagination to boot, NESCAFÉ® is giving you the chance to prove it.
The renowned coffee brand's latest challenge, the NESCAFÉ® CHILL LAH PLEX™ CONTEST, offers cash prizes totalling over RM65,000 for those willing to put their creative juices to the test.
To get started, simply log on to the Nescafé website (http://www.nescafe.com.my) to visit the NESCAFÉ® CHILL LAH PLEX™.
For the first stage of the contest, all participants have to do is come up with a script featuring any or all of the NESCAFÉ® Chilled Coffee cans (NESCAFÉ® Black Roast, NESCAFÉ® Latte, NESCAFÉ® Mocha and NESCAFÉ® Original).
Participants have to pick one of the given themes/genres (Romance, Horror, Comedy, or Action) and then write the scripts out in English, Bahasa Malaysia or Chinese. Each movie script is allowed up to a maximum of six scenes, with a 100-word limit for each scene.
Now here's the catch - all of the dialogue for the NESCAFÉ® Chilled Coffee cans must use homonyms. For example, "Here's what you need to know" could be written as, "Hears what yew knead two no".
The best 100 movie scripts will then be shortlisted based on their creativity, originality and relevancy, and will be posted online at http://www.nescafe.com.my from September 3 to October 7, 2009 for members of the public to view and comment on as well as vote for the 20 finalists.
These finalists will then have to breathe life into their work by actually making a three-minute movie based on their script. These videos will be posted online at http://www.nescafe.com.my from November 9 to 23, 2009, where the "movie" with the highest votes from the judges and members of the public from will deemed the winner of the RM10,000 grand prize and the NESCAFÉ® CHILL LAH PLEX™ CONTEST.
The 2nd place winner will receive RM8,000 while the 3rd place winner will get RM5,000. Seven consolation prize winners will each get RM200 each. All 20 finalists will receive RM2,000, provided they submit their video pitch.
Other prizes in the NESCAFÉ® CHILL LAH PLEX™ CONTEST include iPod Shuffles for those five people who refer the most friends to visit the website, and movie tickets as Voters Incentive prizes.
"Malaysian youth lead busy lives and continuously look for various ways to de-stress themselves or socialise, particularly when they're online. NESCAFÉ® believes in providing these young people fun, stimulating activities where they can express themselves," said Alex Kua, Nestlé Liquid Drinks senior brand manager for Nestlé Products Sdn Bhd.
"The NESCAFÉ® CHILL LAH PLEX™ is the ideal platform for young Malaysians to show off their creativity and chill out at the same time. The use of homonyms in the contest mechanics allows the participants to create their own CHILL LAH language and underscores the fact that in life, we can't always look at things too seriously," he added.
Visitors to the NESCAFÉ® website can also browse through the submitted entries shown at the CHILL LAH PLEX™ gallery or create their own words in the CHILL-LAH Pedia.
Registration for the NESCAFÉ® CHILL LAH PLEX™ CONTEST is open to all Malaysians aged 18 and above. No proof of purchase is required to enter the contest. Log on to http://www.nescafe.com.my for more details.
# # #