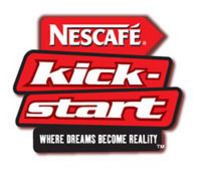 The NESCAFÉ® KICK-START™ Entrepreneur Edition is the perfect platform to empower them to do so and it helps guide them whilst providing them start-up capital as a prize for that much needed financial boost
Petaling Jaya, Selangor (PRWEB) October 10, 2008
NESCAFÉ® KICK-START™, the programme where dreams become a reality for young people, is back in an all new format. The community project, which made its debut as a reality TV show in 2004, will now run completely online at http://www.kickstart.com.my.
The NESCAFÉ® KICK-START™ Entrepreneur Edition, which is open to all aspiring entrepreneurs aged 18 to 25, is offering cash prizes totaling RM38,000.
All participants will have to answer the Entrepreneur Evaluation where those shortlisted to progress to Stage 2 will have to fill up a Business Plan Overview. The NESCAFÉ® KICK-START™ judges and members of the public will then vote to determine 20 finalists for Stage 3.
These finalists will then have to come up with a video pitch of their product/service/solution and the person with the highest votes from the judges and members of the public will be crowned the winner of the RM10,000 grand prize.
The two young people with the second and third highest scores will win RM5,000 and RM3,000 respectively. All 20 finalists will receive RM1,000, provided they submit their video pitch.
The NESCAFÉ® KICK-START™ website has also been updated with a new look and new sections.
Young people looking for career-related help can check out the Career Caféhich has a Career Guidance section that will be updated weekly with articles pertaining to employment and entrepreneurship.
Members can create and share their thoughts in the new Blog section, which will also feature NESCAFÉ® KICK-START™'s resident blogger, Bella.
The Members' Area is open to those who sign up as members of NESCAFÉ® KICK-START™. Members automatically qualify for the Reward Programme where they can earn NESCAFÉ® KICK-START™ points just by taking part in the website's many activities - from inviting friends to sign up to sending virtual mugs of coffee to friends.
These points can then be used to bid for items like movie premiums, cameras and book vouchers in the many online auctions planned. The first session will offer an MPH Book Voucher and Madagascar 2 Penguin Speakers, among other things.
The scheduled auction sessions are:
Session 1 - October 30 to 31, 2008
Session 2 - November 15 to 16, 2008
Session 3 - November 27 to 28, 2008
Session 4 - December 11 to 12, 2008
Session 5 - December 20 to 21, 2008
Session 6 - January 14 to 15, 2009
Session 7 - February 13 to 14, 2009
Session 8 - March 27 to 28, 2009
Members can also buy their friends virtual drinks in the Red Mug Zone. They can select any of the many NESCAFÉ® mugs in the Mug Gallery to send along with a personalised message.
Members will receive NESCAFÉ® KICK-START™ points for the mugs they send out and when friends accept them. In addition, they will be able to unlock five new mugs for every 15 that are sent out.
"NESCAFÉ® believes that young people with the drive to venture out on their own to explore job possibilities like starting up a business need to be encouraged to explore their capabilities and test their skills," said Ng Cheng Ying, Coffee and Beverages brand executive for Nestle Products Sdn Bhd.
"The NESCAFÉ® KICK-START™ Entrepreneur Edition is the perfect platform to empower them to do so and it helps guide them whilst providing them start-up capital as a prize for that much needed financial boost," she added.
Registration for the NESCAFÉ® KICK-START™ Entrepreneur Edition is open from now until December 7, 2008. Submissions can be done online at http://www.kickstart.com.my or via SMS.
NESCAFÉ® KICK-START™ - Where Dreams Become Reality
Issued for and on behalf of Nestlé (Malaysia) Berhad. For further information or media enquiries, please contact Ms Beverley Hon at 6019-313 6011 .
###