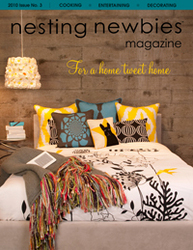 "The Nesting Newbies' concept is an innovative way to communicate original ideas and trends to a previously overlooked group," says Christopher Peacock, CEO of Christopher Peacock Home.
Santa Clara, CA (PRWEB) May 27, 2010
The third issue of the digital magazine Nesting Newbies (nestingnewbies.com) is more than triple the size of the premiere issue, including more recipes and inspirational ideas for "nesting newbies," the site's target audience of those who are building their nests and looking for guidance for an important new phase of their lives, such as moving out, buying a home, getting married, or having a baby. The magazine's innovative approach also appeals to even the most experienced nester who is always looking for a little inspiration. A new Bluebird Mag Swag Bag, a popular (and highly tweeted about) contest, begins in this issue, and one reader will win merchandise valued over $1,500.
In this issue, Chef Lea McIntosh shows readers how to turn a salad into a five-star salad bar for carefree entertaining. In a video bite (short film clip), she teaches busy blogger Jeanine Hays how to easily make salad dressings from scratch. "Many people don't realize how simple it is to whip up an extraordinary salad dressing," says Lea McIntosh. "It takes more time to get in the car, go to the store, and buy it in a bottle!"
McIntosh also introduces Jarfait™, portable parfaits for a take-home treat. "You layer something cakey with something creamy and something gooey in a jar, pop on a lid, and go!" McIntosh presents her clever combinations—S'more Peanut Butter, Please!; Wholly Cannoli; Banana Scotch—and inspires readers to come up with their own creations.
The magazine's entertaining section encourages readers to "chill" and step away from the virtual world for a face-to-face time out with friends. Jodi Murphy, Editor-in-Chief, shares one of her favorite pastimes—creating distinctive table settings—and her formula for doing it using everyday dishware.
Highlights of the decorating section include "nook"—where leading design professionals find function and beauty in the most cryptic nooks and crannies. Vernon Applegate creates an avant-garde suburban home and city pad for his fearless clients who are connoisseurs of extreme decorating. Mei Xu, creator and CEO of Chesapeake Bay Candle and Blissliving® Home, is the issue's Iconic Nester, and she tells how she translates the excitement of travel, the rush of adventure, and the exploration of world cultures into colorful, stylish products for the home. In Do-Over, Emily Anderson, author of Eco-Chic Home, turns bits and pieces into a symbolic chandelier. Two new features are introduced: Hatching Newbies—designing for babies and little ones; and Nestimonials—decorating from a blogger's perspective.
A new Nesting Newbies' Bluebird Bag—the magazine's version of a swag bag—is launched in this issue. One winner will take home over $1,500 worth of merchandise from Blissliving® Home, Duralee Fabrics, Jo Malone, Farrow & Ball, Dacor, Zenatona, LA Plates, Hammocks & High Tea, O Olive Oil, Pink Baby Mouse, Filmore Clark, and SF Sourdough. The contest details are in the magazine and at http://www.nestingnewbies.com. The winner will be announced on June 24, 2010.
This issue was produced in partnership with James Burkart, Burkart Video Productions—who directed, filmed and edited the salad dressing video bite—and photographers Natalie Wi (AllureWest.com), Dean Birinyi (DJBphoto.com), and Margot Hartford (MargotHartford.com). For more information, visit the website at http://www.nestingnewbies.com and the Nesting Newbies Facebook fan page at http://www.facebook.com/nestingnewbies.
###