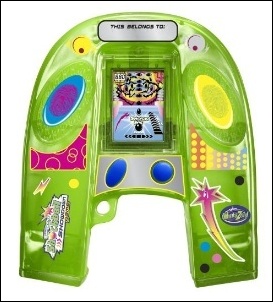 America's Most Admired Food Companies
(PRWEB) December 21, 2006
The most notable results include:
-- 60% of kids ages 6-11 believe in Santa Claus and would like Santa to stuff their stockings with candy or video games(a).
-- 62% of kids ages 6-11 are extremely excited by a handheld video game that they can buy with their allowance(a).
-- For kids ages 6-11, nearly 60% like video games with "fun, wacky games" and 39% like video games they can personalize(a).
(a) SOURCE: Weekly Reader Research, 2006 -- Full survey report available upon request.
These findings indicate that WonkaZoid (a new hand-held, refillable candy dispenser with a fun, one-of-a-kind video game) is an ideal stocking stuffer for the holiday season. Each WonkaZoid has a suggested retail price of $4.99-$6.99 and comes with a full pack of WONKA(R) candy, stickers and a videogame dispenser.
The introductory series of WonkaZoid includes four varieties to collect and play: Grape Strawberry NERDS(R) comes with the NERDS Hockey game, starring the Oompa Loompas; new Sour NERDS(R) is partnered with the NERDS Freeze Tag game; SWEETARTS(R) is teamed up with the SweeTarts Oompa Candy Flip game; and SWEETARTS(R) Shockers is tied to the ever-challenging SweeTarts Shockers Shockball Showdown game.
About WONKA
The Willy Wonka Candy Factory company opened its doors in 1983. Since that time, Wonka has been dedicated to the art of producing fun, innovative, high-quality candies for kids of all ages. WONKA manufactures such well-known favorites as: NERDS(R), NERDS(R) Rope, SWEETARTS(R), SWEETARTS(R) Squeez, LAFFY TAFFY(R), SWEETARTS(R) Shockers, RUNTS(R), EVERLASTING GOBSTOPPERS(R), LIK-M-AID(R) FUN DIP, PIXY STIX(R), BOTTLE CAPS(R), TART 'N TINYS(R) and the WONKA(R) Bar.
About Nestle USA
Named one of "America's Most Admired Food Companies" in Fortune magazine for the ninth consecutive year, Nestle USA provides quality brands and products that bring flavor to life every day. From nutritious meals with STOUFFER'S(R) LEAN CUISINE(R) to baking traditions with NESTLE(R) TOLL HOUSE(R), Nestle USA makes delicious, convenient, and nutritious food and beverage products that enrich the very experience of life itself. That's what "Nestle. Good Food, Good Life" is all about. Nestle USA, with 2005 sales of $8.1 billion (includes Nestle Nutrition), is part of Nestle S.A. in Vevey, Switzerland the world's largest food company with sales of $73 billion. For product news and information, visit Nestleusa.com or NestleNewsroom.com.