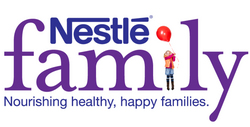 Glendale, Calif. (PRWEB) August 1, 2009
From scoping out the best buys on school supplies to buying new school clothes, or organizing the morning carpool route, the daily routines of everyday life just got a little busier. That's right, back-to-school season is in full swing. And in honor of the new school year, Nestlé is celebrating this transition from summer to school with an exciting back-to-school program featuring great prizes, helpful tools and an array of inspiring ideas.
"I've always loved back-to-school time," said Erin B. from Colorado, a member of Nestlé's online Mom Community. "When I was a student, a teacher, and now a mommy, seeing the school supply aisle always made me excited for the fresh year and the new opportunities."
With a new school year approaching, Nestlé's dedication to families doesn't stop in the kitchen or at the dinner table. Nestlé's unique back-to-school resource, NestleFamily.com/backtoschool, aims to help families prepare for and celebrate this important milestone with a variety of online tools, including tips and ideas related to the school transition, healthy meal and snack ideas and family activities. Whether you're looking for some kid-friendly afternoon fun, lunch box ideas, homework help or school fundraising tips, Nestlé Family is the ultimate resource for preparing families for a successful school year.
And to make getting ready for school a little easier on the wallet, Nestlé is excited to present its "Ready, Set, School" Sweepstakes*, which provides families the chance to win one grand prize of $5,000 cash to help with back-to-school essentials, plus a $2,000 literacy grant for their child's school. By entering every day, parents can not only increase their chances to win the grand prize but are also entered for a chance to win a daily prize of a Mead® Five Star® messenger bag filled with Mead and Five Star products. For official sweepstakes rules, prize details, and to enter, visit NestleFamily.com/backtoschool.
Additionally, Nestlé has partnered with Cozi®, a free web service that can help parents get organized, stay connected and enjoy the new school year. The Nestlé Family Organizer powered by Cozi® offers helpful tools to simplify busy family life, including a shared family calendar to manage new fall schedules and activities, customizable lists for grocery shopping, school supplies and menu planning, as well as a family journal for capturing and sharing special school year moments with friends and relatives. Perfect for on-the-go parents, the Nestlé Family Organizer powered by Cozi® is accessible from any computer and your mobile phone or device, making it easy for busy parents to access shopping lists and schedules, and receive messages and reminders even when they're on the move. Say "goodbye" to sticky notes and missing pens and "hello" to organization with a family organizer that's always right at your finger tips.
"We are thrilled to help parents as they transition from the long days of summer to the busy back-to-school season," said Becky Chao, Mom Insights Director, Nestlé. "We want to provide parents with the tools they need to ensure a successful school year - solutions for busy families feeling the stress of juggling work, school schedules, after-school activities and daily household management."
Visit NestleFamily.com/backtoschool for information on how you can enter for a chance to win the "Ready, Set, School" Sweepstakes, plus find helpful back-to-school tips, recipe ideas, family fun activities and more. And don't forget to sign up for your Free Nestlé Family Organizer powered by Cozi® at cozi.com/nestlefamily.
*SWEEPSTAKES: No purchase necessary. Sweepstakes ends 9/30/09. Open to legal residents of the 50 US & DC, 18 or older. Void where prohibited. Subject to full rules and prize details at NestleFamily.com/backtoschool.
About Nestlé Family
Big or small, each day's events write your family's unique story. That's why Nestlé created Nestlé Family -- to offer inspiration and ideas that help foster the moments that nurture your family's health and happiness. Designed for families with kids age 3-12, Nestlé Family provides inspiration including everyday and seasonal family fun activities and healthy meal ideas. Nestlé is part of Nestlé S.A. in Vevey, Switzerland -- the world's largest food company with a commitment to Nutrition, Health & Wellness -- with sales of $101 billion. Nestlé Family is supported by a variety of Nestlé brands, including NESTLÉ® JUICY JUICE®, STOUFFER'S®, NESTLÉ® TOLL HOUSE®, NESTLÉ® CRUNCH®, NESTLÉ® BUTTERFINGER®, NESTLÉ® BABY RUTH®, WONKA®, NESTLÉ® RAISINETS®, OVALTINE®, NESTLE® CARNATION® Evaporated Milk, CARNATION® Instant Breakfast EssentialsTM , BOOST® KID ESSENTIALSTM, LIBBY'S® 100% Pure Pumpkin, NESTLÉ® PURE LIFE® Purified Water, NESTLÉ® DRUMSTICK®, NESTLÉ® PUSH-UP® Frozen Treats, DIBS®, and NESTLÉ® COFFEE-MATE®. Visit NestleFamily.com.
All trademarks are owned by Société des Produits Nestlé S.A., Vevey, Switzerland or are used with permission.
###