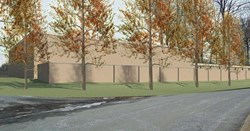 "We are very excited to be breaking ground on this data center expansion less than three years since opening Parsippany II," said Blake Ellman, CEO of Net Access.
Cedar Knolls, NJ (PRWEB) September 24, 2013
Net Access (http://www.nac.net), a leading colocation and cloud solutions provider in the New York metropolitan region, announced today that it has broken ground on a significant building expansion at its second Parsippany, New Jersey data center. Originally opened in late 2010, the Parsippany II facility will be nearly tripled in size to stay well ahead of the growing needs of Net Access' customers. This expansion demonstrates the strong New Jersey data center market and illustrates Net Access' success in supporting the high power density requirements of their clients.
"We are very excited to be breaking ground on this data center expansion in less than three years since opening Parsippany II," said Blake Ellman, CEO of Net Access. "By increasing the facility size from 50,000 square feet to over 120,000 square feet, we will not only enable current customers at this facility to expand, but also provide plenty of space for new customers in the coming years. With our close proximity to Manhattan, onsite D/R seating, and full suite of cloud and managed services, an increasing number of enterprises are selecting Net Access for their IT infrastructure needs."
Expansion Highlights

70,000 square feet of additional building space (120,000 total square feet.)
Two stories, 35,000 square feet per floor, purpose built addition with high floor load and high roof load capacities.
Two additional power systems.
Over 20 MW (megawatts) of total power will be available at completion.
Diverse N+1 UPS & diesel generator protected power feeds from completely independent isolated power systems.
N+3 modular cooling approach, over 2,000 tons of capacity.
Onsite Customer Disaster Recovery Suites
Expected completion is Q2 2014.
"We are committed to supporting high density power needs and enabling future growth for our customers," said Alex Rubenstein, COO of Net Access. "With N+1 and 2N+1 power configurations available, consumption based power billing, custom sized private and shared cages, backed by our experienced technical support and facilities teams, this is a compelling solution for businesses evaluating data center services."
Net Access operates three data centers in New Jersey, including the Parsippany II data center which is a 50,000 square foot facility (120,000 square feet after expansion) with 2N+1 redundant UPS and diesel generator backed power, high density capable cabinets supporting up to 20 kW (per cabinet), redundant network connectivity, security systems featuring man-trap, proximity card, biometric fingerprint and iris scanning, exterior and interior CCTV cameras, and 24 x 7 x 365 onsite Operations Center staff.
About Net Access
Net Access is an industry leading provider of colocation, cloud, and managed services, delivering secure, reliable, and flexible services designed to meet the diverse and growing needs of our customers. Net Access' data centers allow its customers to focus on their core strengths, without the need to operate the underlying infrastructure, providing technology solutions for small businesses and global enterprises alike. For more information, please visit http://www.nac.net.