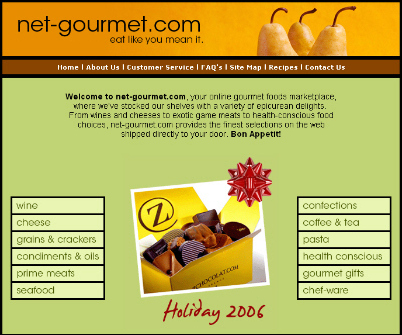 We've already done the work for them.
Frisco, TX (PRWEB) December 6, 2006
It turns left when it should go right. It stops when it should go. It wobbles. It shakes. It rattles. It rolls. It's the shopping cart from hell, it's everywhere, and it can give an innocent grocery shopper a real pain in the aisle. Until now.
A newly launched website has ended the shopping cart nightmares of grocery store customers everywhere. http://www.net-gourmet.com guarantees consumers a wobble-free shopping cart experience as they click and cruise its virtual aisles for gourmet food items.
"Finally I can shop in open-toed shoes," reports one cart-weary customer. "With net-gourmet.com, my toes are safe."
In addition to offering a safer, more pleasant shopping environment, net-gourmet .com also offers a comprehensive inventory. The online market carries a broad selection of premium foods including wines, imported cheeses, exotic meats, pastas, desserts and more, all in one store.
"We've brought the best of the web into one place. Because we've already done the research, online shoppers no longer have to spend their time and energy surfing websites and making comparisons," say company founders. "We've already done the work for them."
The company also claims a unique advantage in being 'brand agnostic'. While many online food sites are distribution arms of their own manufactured products, net-gourmet.com is different. "We have no vested interest in pushing a specific brand or product. Our goal is to offer the customer the best product available, period."
While the online market offers premium foods year-round, selections change with the seasons. For Holiday 2006, in addition to traditional fare, net-gourmet.com is featuring a gourmet gifts section including themed gift baskets, desserts, kosher gifts, fruit baskets, gourmet chocolates and even cigar gift sets. In anticipation of forthcoming New Year resolutions, the site is ready with more health conscious choices that include natural seafoods, gluten- and wheat-free products, organics, health supplements and weight loss aids.
About net-gourmet.com:
Net-gourmet.com has selected the best foods available on the web to offer a one-stop epicurean shopping experience. In addition to offering gourmet food items, gifts and health supplements, http://www.net-gourmet.com also offers a continuously updated recipe collection, a recipe search engine and a newsletter featuring current food news and events.
###