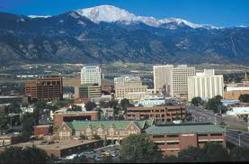 Colorado Springs is the second largest city in the state. We are pleased to be on the air there.
Coral Springs, FL (PRWEB) April 10, 2013
Colorado Springs, Colorado, which lay near the base of the famous American mountains Pikes Peak, in the eastern edge of the Southern Rocky Mountains, was ranked 6th by Forbes Magazine as One of America's Safest Cities. It is also ranked as one of America's Most Wired cities by the same publication. The Net Worth TV show is pleased to welcome the "The Springs" to its viewing area. The award-winning program will air on FOX KXRM-TV beginning April 14.
The city economy is mainly influenced by the many military installations it is home to. It also has a strong tourism economy because of the abundant number of outdoor activities is hosts. Colorado Springs is rich in culture and family entertainment venues and offers some of the most unique rock formations in the country like Pikes Peak, Garden of the Gods Park, Seven Falls, and Cave of the Winds.
The Net Worth TV host is none other than Terry Bradshaw, the Hall of Fame quarterback from the Pittsburgh Steelers. Bradshaw still commands respect from the locker room to the Board room and that has made him a top commodity in Corporate America. He is a favorite motivational speaker who once said, "You find out in life that people really like you funny. So what do you give 'em? Humor." His outgoing personality and credibility keep him busy today with product endorsements, cameo appearances in a few major motion pictures, and close to a hundred appearances on the Jay Leno show. The reason is clear why Terry Bradshaw is a great host and segment narrator for the show.
Net Worth with Terry Bradshaw explores the business, financial and technological industries and shares feature interviews with leaders in their fields and inspiring innovators. The program airs on many national and regional cable television networks throughout the United States and Canada. Join the producers and other behind-the-scenes staffers on Facebook and Twitter, or watch some sample videos on YouTube.